PM Narendra Modi inaugurate Asian Ministerial Conference on Disaster Risk Reduction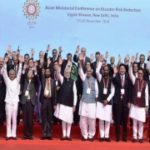 Prime Minister Narendra Modi inaugurated the 2016 Asian Ministerial Conference on Disaster Risk Reduction (AMCDRR) in New Delhi.
The conference has been organised by Union Government in collaboration with the United Nations Office for Disaster Risk Reduction (UNISDR).
Key Facts
2016 AMCDRR will pave the way for implementation of the Sendai framework in the Asian region and will also devise a mechanism for monitoring its progress.
About 2,000 foreign delegates, including ministers from 54 Asia Pacific countries will participate in the 2016 AMCDRR.
2016 AMCDRR will focus on consultation, collaboration and partnership with governments and stakeholders to mainstream Disaster Risk Reduction (DRR) in the region.
It will adopt the 'Asian Regional Plan for Implementation of the Sendai Framework' endorsed by the Asian countries.
Comment
2016 AMCDRR is the seventh edition of the conference after it was established in 2005 and the first major inter-governmental event after the adoption of the Sendai Framework for Disaster Risk Reduction (SFDRR) adopted at 3rd UN World Conference in Sendai, Japan in March, 2015. This is second time India hosting AMCDRR. For the first time India had also hosted the second AMCDRR in 2007 in New Delhi.
PM Narendra Modi after inaugurating 2016 AMCDRR outlined a ten-point agenda for renewing efforts towards disaster risk reduction. The 10-point agenda includes
All development sectors must imbibe the principles of disaster risk management.
Work towards risk coverage for all starting from poor households to SMEs to MNCs to nation states.
Encourage greater leadership and involvement of women in disaster risk management.
Invest in risk mapping globally. For mapping risks related to hazards like earthquakes we have accepted standards & parameters.
Leverage technology to enhance the efficiency of disaster risk management efforts.
Develop a network of universities to work on disaster issues.
Utilize the opportunities provided by mobile and social media technologies.
Build on local initiatives and capacity.
Opportunity to learn from a disaster must not be wasted. After every disaster there are papers on lessons that are rarely applied.
Bring greater cohesion in international response to disasters.
Month: Current Affairs - November, 2016
Topics: Asia-Pacific • Disaster Management • Events • Narendra Modi • National • Sendai Framework
Advertisement