NASA's Juno spacecraft completes fourth flyby of Jupiter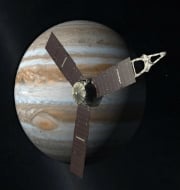 NASA's solar-powered Juno spacecraft completed closest flyby of Jupiter mysterious cloud tops for the fourth time. All eight of Juno's science instruments were switched on during the flyby.
During its closest approach it was roughly 4,300 km above Jupiter's cloud tops and travelled at a speed of about 208,000 kmph. Currently, Juno is locked in a 53-day orbit around Jupiter.
It is expected to perform three dozen flybys over the next one and a half years. During its flybys, Juno probes beneath the cloud cover of Jupiter and studies Jupiter's auroras to learn more about its origins, structure, atmosphere and magnetosphere
About Juno spacecraft
Juno was launched in August 2011 to study Jupiter's composition and evolution. It's the first solar power spacecraft to orbit Jupiter and second after Galileo.
The unmanned spacecraft had successfully entered Jupiter's orbit in July 2016 after a five year journey and traversing distance of nearly 2 billion miles.
The primary goals of the mission are to find out whether Jupiter has a solid core, how its atmosphere and magnetosphere formed, and whether there is water in the gas cloud shrouding the planet.
The information gathered from it will provide vital clues to how the planet formed and evolved, but also to how the solar system we live in came into existence.
The spacecraft has been named after the Roman goddess Juno, the wife of Jupiter who is considered as the god of the sky in ancient Greco-Roman mythology.
For more information: Juno Spacecraft
Month: Current Affairs - February, 2017
Topics: Internaitonal • Juno Spacecraft • Jupiter • NASA • Science and Technology • Space Missions
Latest E-Books