US move to raise import duty on steel may hit India's steel market: ISA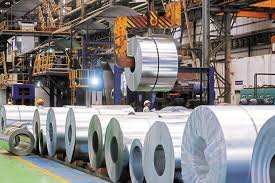 According to Indian Steel Association (ISA), proposal by Trump administration to levy steep tariff on steel imports may hit India's domestic steel market. Recently, US had proposed to impose tariffs of 25% on steel imports and 10% on imported aluminium to protect domestic steel industry from cheap imports. It had clubbed India as steel non-mature country with other steel surplus nations.
Key Facts
The proposal, if implemented, will result in major shifts in existing global trade flows of steel and steel products. It will encourage steel-surplus nations to divert their exports to vibrant consumption centres (countries) like India and distort their domestic markets considerably. It will dent growth prospects of developing nation like India, whose production and consumption of steel is inward looking.
Though India is third largest producer of steel and produces 12% of world's non-Chinese production of steel, it has only 2.7% share in US imports. There are total of 16 trade remedies in place in US against Indian steel imports. This included 10 anti-dumping and 6 countervailing duties. All these had made it nearly impossible to export Indian Steel to US.
Month: Current Affairs - March, 2018
Topics: Business • Economy • India-US • Steel imports • Trade wars
Latest E-Books