Page-26 of
Current Affairs - May, 2022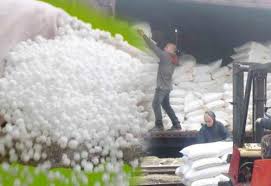 Union Finance Minister recently announced that the government will provide an additional fertilizer subsidy of Rs 1.10 lakh crore to protect farmers from the rise in fertilizer prices.
What will be the total fertilizer subsidy?
With the recent announcement, the government's total fertilizer subsidy will reach Rs 2.15 lakh crore in the current financial year (2022-23). A fertilizer subsidy of Rs 1.05 lakh crore was announced in the 2022-23 Budget. In 2021-22, the fertilizer subsidy was Rs 1, 62,132 crores.
Why there is a surge in global fertilizer prices?
The Russia-Ukraine war led to supply chain disruptions and the global fertilizer prices have risen. India is dependent on imports for urea, potassic and phosphatic fertilizers.
On which fertilizers subsidy is provided?
The government ensures that urea and 24 grades of P&K fertilizers are available to farmers at subsidized prices. For urea, the Centre fixes the MRP. The difference between MRP and production cost is reimbursed in the form of a subsidy. Whereas, the subsidy on the various P&K fertilizers is covered under the nutrient-based subsidy (NBS) Policy.
Under the NBS Policy, the government annually announces a fixed rate of subsidy on Nitrogen (N), Phosphate (P), Potash (K), and Sulphur (S). In April 2022, the Union Cabinet approved a subsidy of Rs 60,939 crore on phosphatic and potassic (P&K) fertilizers for the Kharif season to provide fertilizers to farmers at a reasonable price.
Month: Current Affairs - May, 2022
Category: Economy & Banking Current Affairs - 2022
Topics: Fertilizer • NBS • NPK • Subsidy • Urea
Indian business tycoon Gautam Adani, Supreme Court lawyer Karuna Nundy, and Kashmiri human rights activist Khurram Parvez have been featured on TIME 100: Most Influential People of the World 2022. This list has been divided into six categories that are Pioneers, Icons, Artists, Titans, Innovators, and Leaders.
In which category was Gautam Adani featured?
Gautam Adani has been named on this list under the Titans category along with personalities like Tim Cook, Christine Lagarde, Oprah Winfrey, etc.
In which category were Karuna Nundy and Khurram Parvez featured?
Parvez and Nundy have been named on this list under the Leaders category along with personalities like Volodymyr Zelenskyy, Vladimir Putin, Joe Bide, Olaf Scholz, etc.
Who is Karuna Nundy?
She is an advocate in India's Supreme Court. She has been fighting for women's rights and is constantly striving for reforming anti-rape laws. She is also fighting to bring marital rape under the umbrella of the rape law of the country. Her TIME profile has been written by advocate Menaka Guruswamy.
Who is Khurram Parvez?
The head of the Asian Federation Against Involuntary Disappearances is Khurram Parvez. For years he has been fighting for the human rights of the people of Kashmir. His TIME profile has been written by Rana Ayyub.
Who is Gautam Adani?
Adani is a business tycoon in India. Currently, he is vying for the fifth spot in the list of the world's top 10 richest people with Warren Buffet. His TIME profile has been written by author Debasish Roy Chowdhury.
Month: Current Affairs - May, 2022
Category: India Nation & States Current Affairs • Persons in News
Topics: Gautam Adani • Karuna Nundy • Khurram Parvez • TIME 100 Most Influential People List • Time Magazine