Liaoning – China's First Aircraft Carrier Ready for Combat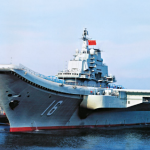 China has announced that its first aircraft carrier, the Liaoning is now ready for combat. It was commissioned in 2013. The 300-metre-long Liaoning is a refurbished and upgraded version of the Soviet carrier Varyag, which was purchased from Ukraine. This is considered as a breakthrough for the Chinese navy which has invested heavily in its ability to project power beyond its shores.
China has not spelt out how it intends to make use of the Liaoning. The Liaoning carrier was previously described by the Chinese media as a surface platform for tests and training. However, now it has been formally announced that the carrier possess a real combat capacity.
Implications
The aircraft carrier will help China to increase its assertiveness in the South China Sea, where it has involved in territorial disputes with Brunei, Malaysia, the Philippines, Taiwan and Vietnam. It also faces challenges from the U.S. Navy and others in the region. It is to be noted that $5 trillion worth of trade passes through the South China Sea every year.
As china still lags behind US in terms of technology in the combat platform, addition of Liaoning would increase its navy's capability to execute combat missions. Three senior US officials who have visited Liaoning have already given positive evaluation on the management of the carrier. In addition China is currently involved in building a fully indigenous aircraft carrier at a feverish pitch. On completion, it would be its second aircraft carrier.
Related Posts
Topics: Aircraft carrier • China • Chinese aircraft carrier Liaoning • Chinese aircraft carrier programme • Countries • East Asia • INS Vikrant • Liaoning • Ships • Zhang Zheng
Latest E-Books