Junior National Ice Hockey Championship-2020 begins in Leh
Published: January 2, 2020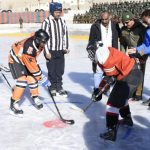 The Ice Hockey Association of India(IHAI) is conducting the 5th edition of the Junior National Ice Hockey Championship in Leh. The National Championship started on Thursday, 2nd January 2, 2020, and will continue till next Tuesday, 7th January 2020. The tournament is played in the Under-20 (U-20), junior category of both boys and girls. The inaugural match was contested in the boy's category, which ended in a 4-4 draw between Chandigarh and Haryana. The tournament is being organized at the Karzoo Ice Hockey Rink located in the largest city of the union territory of Ladakh.
6 Teams from hosts Ladakh, Indian army, Chandigarh, Maharashtra, Haryana, and Delhi are participating in the boy's U-20 category. In the girl's category, 4 teams from Ladakh, Chandigarh, Delhi, and Maharashtra are participating the 5th edition of the tournament. The first match in girls category was played between the hosts Ladakh and Maharashtra.
Since April 1989, the Ice Hockey Association of India is a member of the International Ice Hockey Federation (IIHF).
Topics: Chandigarh • Delhi • Haryana • Ice Hockey Association of India • International Ice Hockey Federation • Ladakh • Leh • Maharashtra • National Ice Hockey Championship