Japan's first stealth fighter X-2 jet successfully completes its maiden flight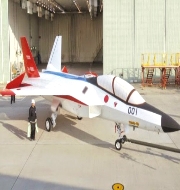 Japan successfully tested the maiden flight of its first domestically developed single-pilot stealth fighter jet X-2.
With this Japan becomes fourth country in the world to have indigenous full-size stealth combat aircraft. Other three countries viz. United States, Russia and China have successfully developed and flown manned stealth jets.
Test: The prototype X-2 jet took off from Nagoya airport in central Japan. It safely landed at Gifu air base, north of Nagoya airport with no particular problems after a 25-minute flight.
About X-2 jet
It is jointly developed by Mitsubishi Heavy Industries and 200 other firms. It was built as a successor to F-2 fighter jets developed jointly with the help of US.
It is strategic project of the Japanese Ministry of Defense Technical Research and Development Institute (TRDI) for research purposes.
The aircraft is widely known in Japan as Shinshin (meaning spirit of the heart), but is not officially in use and generally its code name is used.
The fighter jet is 14.2 metres long, 9.1 metres wide and has wingspan of 9.099 metres.
It has maximum speed of mach 2.25 (2,475 Km/h) and is powered by 2 × IHI XF5-1 low-bypass turbofans.
It has range: 2,900 km and combat range of 761 km and ferry range of 3,200 km.
Its delivery to the Japanese defence ministry is expected as early as May 2016 and the acquisition will be after analysing its stealth technology capability.
Note: Stealth aircrafts are designed to avoid detection mainly by using a variety of stealth technologies. These technologies reduce emission/reflection of radar, infrared, visible light, radio-frequency (RF) spectrum and audio.
Month: Current Affairs - April, 2016
Topics: Defence • International • Japan • Stealth Technology • UPSC
Latest E-Books