ISRO successfully launches 8 satellites into two different orbits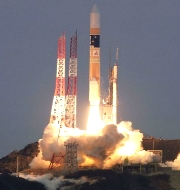 The Indian Space Research Organisation (ISRO) for first time has successfully launched eight satellites into two different orbits in a single mission.
These satellites were launched onboard of Polar Satellite Launch Vehicle C35 (PSLV C35) from the first launch pad of the Satish Dhawan Space Centre, Sriharikotta.
It was PSLV's longest and most complex mission. It is also for the first time PSLV has successfully placed satellites in two different orbits in single mission.
Key Facts
Among the eight satellites launched, three satellites were from India, three from Algeria and one each from Canada and United States.
SCATSAT-1 satellite of India weighing 371 kg was the primary payload and remaining other seven customer satellites were secondary payloads (5 foreign and 2 domestic satellite) weighing 304 kg in total.
SCATSAT-1 satellite: It is weather satellite that was placed in polar sun synchronous orbit of 730 kilometer height.
It will provide weather forecasting services meant for ocean and weather forecasts, cyclone detection and tracking through wind-vector products. It will have life of five years.
Pratham: It is a 10-kg satellite developed by students from Indian Institute of Technology (IIT), Bombay.
It will be used to study the total electron count in space with a resolution of 1km x 1km location grid.
PISAT: It is a 5.25-kg satellite made by students of Bengaluru's PES University. It will take pictures of earth for remote sensing applications.
Three Algerian satellites: Alsat-1B (103 kg), Alsat-2B (110 kg) and Alsat Nano (7 kg). They will be used for remote sensing, earth observation, and technology demonstration.
Pathfinder-1: It is US satellite owned by BlackSky. It weighs 44 kg and has a high resolution imaging microsatellite.
NLS-19: It is Canadian satellite developed by University of Toronto. It is a nano-satellite weighing 8 kg. It will be used for experiments for reducing space debris.
Comment
It was longest and most complex mission because most countries launch satellites in a single orbit and even if multiple satellites are injected in a sequence in the same orbit.
However, in this mission PSLV launched its payloads in two different orbits by following twin-orbit manoeuvre. It was recently accomplished by European Space Agency's Vega rocket.
This is a challenging two-in-one mission also puts India in a unique league of nations having the capability to achieve two different orbits in a single mission.
This successful mission also has enhanced marketability and versatility of PSLV, ISRO's workhorse and also increased its unique position global satellite launch services market.
Month: Current Affairs - September, 2016
Topics: Algeria • Canada • IIT Bombay • ISRO • PSLV • SCATSAT-1 • Science and Technology • Space technology • US
Latest E-Books