ISRO to launch 31 satellites in single mission in January 2018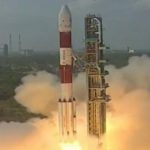 The Indian Space Research Organisation (ISRO) has announced to launch 31 satellites, including India's Cartosat-2 series earth observation space craft in a single mission onboard on January 10, 2018.
These satellites will be launched onboard of Polar Satellite Launch Vehicle (PSLV)-C40 from the spaceport in Sriharikota, Andhra Pradesh. It will be first PSLV mission after the unsuccessful launch of backup navigation satellite IRNSS-1H in August 2017 on board PSLV-C39, due to technical fault on final leg following perfect launch.
Payloads
The mission will be combination of 28 nano satellites from foreign countries, including Finland, US and one micro and nano satellite from India. The mission's main payload will be India's Cartosat-2 series earth observation satellite. This will be the third satellite in the Cartosat-2 series
Cartosat-2 series satellite launch is a follow-on mission with the primary objective of providing high resolution scene specific spot imageries. It carries Panchromatic and Multi-spectral cameras operating in Time Delay Integration mode. It is capable of delivering high resolution data.
Polar Satellite Launch Vehicle
PSLV is third generation launch vehicle indigenously designed and developed by ISRO. It is one of world's most reliable and versatile workhorse (launch vehicles) with 39 consecutively successful missions by June 2017.
It is four stages launch vehicle and first Indian rocket to be equipped with liquid stages. It can take up to 1,750 kg of payload to Sun-Synchronous Polar Orbits (SSPO) of 600 km altitude and payload of 1,425 kg to Geosynchronous and Geostationary orbits.
Four Stages: The uppermost stage or fourth stage of PSLV comprises of two Earth storable liquid engines. The third stage is solid rocket motor that provides upper stages high thrust after the atmospheric phase of the launch.
Second stage of PSLV uses an Earth storable liquid rocket engine, know as Vikas engine, developed by Liquid Propulsion Systems Centre. The first stage uses uses the S139 solid rocket motor that is augmented by 6 solid strap-on booster.
Successful missions: During 1994-2017 period, PSLV has launched 48 Indian satellites and 209 satellites for customers from abroad. It has been in service for over twenty years and has launched historic missions like Chandrayaan-1, Mars Orbiter Mission (MOM), IRNSS (NAVIC) etc.
Month: Current Affairs - December, 2017
Topics: 31 satellites • Cartosat-2 Satelliite • ISRO • PSLV-C40 • Science and Technology • Space technology
Advertisement