INS Kochi commissioned into Indian Navy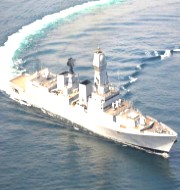 Indian Navy has commissioned INS Kochi, a Kolkata-class Guided Missile Destroyer in its contingent to showcase India's indigenous efforts in the field of underwater warfare.
The ship was commissioned by Union Defence Minister Manohar Parrikar in Mumbai.
It is a second ship of the three ships Kolkata-class Guided Missile Destroyer to be inducted. Earlier in 2014, Prime Minister Narendra Modi had commissioned INS Kolkata.
The third and last ship of Kolkata-class Guided Missile Destroyer INS Chennai is expected to join Indian Navy in 2016.
Top features of INS Kochi
The ship drives its name from the port city of Kochi (Kerala) which had distinct maritime character and culture and symbolises the special bond between the Indian Navy.
It has been built at Mazagaon Docks (MDL), Mumbai and it is the 10th destroyer in India's combat fleet.
Dimensions: Spans over 164 meters in length and 17 meters at the bean. Weighs over 7500 tonnes.
Engine: It is propelled by 4 gas turbines and designed to achieve maximum speeds in excess of 30 knots.
Weapons: It is loaded with state-of-the-art weapons, sensors and advanced stealth features including long-range BrahMos surface-to- surface missile.
It has AK 630 Close In Weapon System (CIWS) and 76 mm Super Rapid Gun Mount (SRGM) designed to take on air and surface targets.
Its anti-submarine arsenal consists of indigenously built Twin-tube Torpedo Launchers (ITTL), Indigenous Rocket Launchers (IRL) and bow-mounted new generation HUMSA Sonar Dome.
INS Kochi is also equipped to operate 2 Sea King or Chetak helicopters.
It should be noted that destroyers are second only to aircraft carriers to have raw combat power on the high seas.

Month: Current Affairs - September, 2015
Topics: Current Affairs - 2017 • Current Affairs 2016 • Defence • Indian Navy • INS Kochi
Latest E-Books