India Russia sign pact to set up a Smart City on DMIC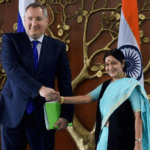 On 5th November 2014, India and Russia signed agreement to set up a Smart City on the Delhi-Mumbai Industrial Corridor (DMIC).
The agreement was signed by Deputy Prime Minister of Russia Dmitry Rogozin and External Affairs Minister Sushma Swaraj during the 20th session of India-Russia Inter-Governmental Commission on Trade, Economic, Scientific, Technological and Cultural Cooperation (IRIGC-TEC).
Russian company AFK Sistema will help in establishing the Smart City in India.
The IRIGC-TEC reviewed the progress on a broad spectrum of bilateral issues including trade, economic, scientific, technological and cultural cooperation.
This meeting also reviewed the preparations for the forthcoming visit of the Russian President Putin to India for the 15th India-Russia Annual Summit next month.
Other key highlights of 20th session IRIGC-TEC
Lighting equipment plant: Approval for setting up a manufacturing of lighting equipment plant in Karnataka by Russian firm MGK Lighting Technologie.
Telecommunication satellites: A project by the group of companies Dauria Aerospace and Aniara Communications Private Limited for unrolling of a group of telecommunication satellites `NextStar' on geostationary orbit of the Earth on the basis of low budget platform was approved.
Joint Study Group: Setting up a Joint Study Group for the proposed agreement between India and the Customs Union of Belarus, Kazakhstan and the Russian Federation for trade in goods and services.
Bilateral trade: To enhance bilateral trade through the International North South Corridor Project (INSTC) by freight forwarders and exporters particularly to bolster trade in agriculture and food processing industry.
Momentum of cooperation: India and Russia will maintain the momentum of cooperation in some priority areas such as hydrocarbons, coking coal, fertilizers, mining, civil aviation, infrastructure and trade in rough diamonds.
A joint cooperation between the Indian company National Mineral Development Corporation (NMDC) and the Russian firm ACRON. It will look into development of potassium and magnesium deposits in Talitsky mine in Perm region of Russia and Partomchorr apatite-nepheline ore deposit (Murmansk region).
Proposal for setting up of a 200-250 MW Power Plant project at Ulan-Ude by Bharat Heavy Electricals Limited (BHEL).
Establishment of a JV in India for production of Cold-Rolled Grain Oriented silicon steel (CRGO) grade steel by Rashtriya Ispat Nigam Ltd (RINL) in collaboration with NLMK of the Russian Federation.
Joint Supercomputer Center: Proposal for establishing Joint Supercomputer Center of the Russian Academy of Sciences (JSCC RAS), collaboration on various applications of High Performance Computing (HPC), supercomputing and
Technology sector: Establishment of an India-Russia joint investment fund for supporting joint projects in high technology sector including transfer of technology.
Month: Current Affairs - November, 2014
Topics: bilateral • DMIC • Economy • India-Russia • infrastructure • Smart city
Latest E-Books