IAF's Upgraded Jaguar DARIN III aircraft receives IOC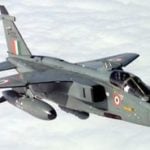 The upgraded Jaguar DARIN III twin-seat aircraft has received Initial Operation Clearance (IOC). It is considered as a significant milestone for the country's military aviation sector.
The satisfactory completion of IOC was announced by Deputy Chief of IAF, Air Marshal RKS Bhadauria who had flown the aircraft at HAL airport in Bengaluru.
Key Facts
Hindustan Aeronautics Limited (HAL) has upgraded 3 DARIN I Standard Jaguars to DARIN III Standard. The aircraft is now equipped with world class avionics system.
HAL's Mission and Combat System Research and Design Centre (MCSRDC) had carried out total design and development of aircraft and modification was done at Overhaul Division.
Besides HAL, certification agencies, trial team of ASTE and other agencies were also involved in the upgrade programme.
The upgraded aircraft incorporates new state-of-the-art avionics architecture including the Open System Architecture Mission Computer (OSAMC), Fire Control Radar.
It also has Solid State Digital Video Recording System (SSDVRS), Autopilot with Alt Select & HNAV and Identification of Friend or Foe (IFF) and more.
DARIN I Standard Jaguar is an Anglo-French jet attack aircraft. It was originally used by the French Air Force and British Royal Air Force in the close air support and nuclear strike role. It is still in service with the Indian Air Force and its fleet is based at the Ambala air force station.

Month: Current Affairs - November, 2016
Topics: DARIN III aircraft • Defence • Indian Air Force • National • Science and Technology • Upgraded Jaguar
Advertisement