Human antibodies produced in lab for first time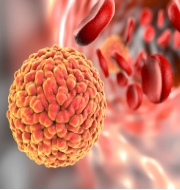 Scientists for the first time have produced human antibodies in the laboratory. They have developed revolutionary technique which can help in rapid development of new vaccines to treat a wide range of infectious diseases.
Antibodies
Antibodies mainly function in the humoral adaptive immune system by secreting antibodies to fight off infections caused by bacteria, viruses, and other invasive pathogens. They are produced by body's B cells (B lymphocytes). When an individual B cell recognises a specific pathogen-derived antigen molecule, it proliferates and develops into plasma cells that secrete large amounts of antibody capable of binding to the antigen and fending off the infection.
Key Facts
To develop revolutionary technique, researchers had replicated the process of natural production of antibodies from B cells isolated from patient blood samples in the laboratory to produce specific antibodies. They had found that B cells need a second signal to start proliferating and developing into plasma cells apart encountering a specific antigen at first instance.
For the second signal they used short DNA fragments called CpG oligonucleotides, which activate a protein named TLR9 inside B cells. However, they found that treating patient-derived B cells with CpG oligonucleotides stimulates every B cell, not just the tiny fraction capable of producing a particular antibody.
So to overcome the problem they treated patient-derived B cells with tiny nanoparticles coated with both CpG oligonucleotides and an antigen. With this technique, CpG oligonucleotides were only internalised into B cells recognising the specific antigen. These cells were only ones in which TLR9 is activated to induce their proliferation and development into antibody-secreting plasma cells.
Significance
Researchers successfully demonstrated their approach using various bacterial and viral antigens, including the tetanus toxoid and proteins from several strains of influenza A. In each case, they were able to produce specific, high-affinity antibodies in just a few days. In some of the anti-influenza antibodies generated by the technique were able to neutralise multiple strains of the virus. They were able to generate anti-HIV antibodies from B cells isolated from HIV-free patients. This approach may help researchers to rapidly generate therapeutic antibodies for the treatment of infectious diseases and other conditions such as cancer.
Month: Current Affairs - July, 2017
Topics: B cells • Biology • Human antibodies • Immune system • Science and Technology
Latest E-Books