Govt. imposes safeguard duty on solar cells for one more year till July 2021
Published: July 30, 2020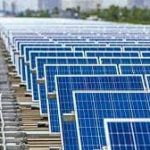 The government has imposed the safeguard duty of solar cells for one more year till July 2021 with the aim to protect the domestic manufacturers and discourage cheap imports from countries such as China. The same recommendation has also been given by the Directorate General of Trade Remedies, the investigative arm of the Ministry of Commerce, Government of India.
Background
The Directorate General of Trade Remedies (DGTR) has concluded in its enquiry that after a decline in imports in 2018-19 due to the imposition of safeguard duty on solar cells whether or not assembled in modules and panels, imports have again increased during the April-September 2019 period due to reduction in the duty from July 30, 2019. It is due to this, the government has again come out with the same notification this time also.
Details of the Safeguard Duty
A duty of 14.9% will be levied during July 30, 2020, to January 29, 2021, and then 14.5% duty will be imposed on the imported solar cells from January 30, 2021, to July 29, 2021. India imposed this duty for the first time in July 2018 for a period of two years since China used to account for around 80% of module supplies in India. In line with this, the renewable energy ministry is also mulling imposing customs duties on some solar power equipment to make the country self-sufficient in the long run.
Month: Current Affairs - July, 2020
Category: Economy & Banking Current Affairs
Topics: China • Directorate General of Trade Remedies • Ministry of Commerce • Safeguard Duty • Solar cells
Advertisement