First women team of CoBRA commando unit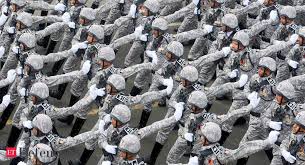 Recently, a maiden contingent of 34 CRPF women personnel were inducted into the specialized jungle warfare commando force called CoBRA. The contingent would now be deployed in the anti-naxal operations grid of India.
Commando Battalion for Resolute Action (CoBRA)
COBRA is a special operation unit of the Central Reserve Police Force (CRPF) of India.
The operation unit is skilled in the guerrilla tactics and jungle warfare.
It established in the year 2009 to counter the Naxalite problem.
It is deployed to tackle the insurgent groups who are engaged in asymmetrical warfare.
Currently, there are ten battalions of CoBRA.
The battalions are one of the most experienced and successful law enforcement units.
Till now, the battalions were an all-male unit. First time, a contingent of women personnel has been inducted into it.
Condition for the CoBRA team
The commandos of the CoBRA are required to be mentally and physically tough. They are mostly deployed in the Maoist violence-affected states of the country. They are also deployed for the insurgency operations.
First Women CoBRA Unit
The induction of the first women CoBRA Unit was marked by a ceremony that was held in Kadarpur village. In the ceremony, the chosen women personnel performed the combat drills. A member of 34 CRPF women personnel contingent have been selected from 6 all-women battalions of CRPF. They will now undergo pre-induction training for 3 months. After that, they will be deployed with the units in Naxal violence-affected districts in the state of Chhattisgarh.
Central Reserve Police Force (CRPF)
It is largest Central Armed Police Force in India. The force works under Ministry of Home Affairs (MHA). It assists the State or Union Territories in the police operations to maintain the law & order and counter insurgency. It was established as the Crown Representative's Police in July 1939. After Indian Independence, it was renamed as CRPF in accordance with the CRPF Act.
Month: Current Affairs - February, 2021
Category: Defence Current Affairs
Topics: Central Reserve Police Force (CRPF) • CoBRA • Commando Battalion for Resolute Action (CoBRA) • Naxal Issues • Naxal-hit districts • Naxalite
Latest E-Books