Festival of India begins in Oman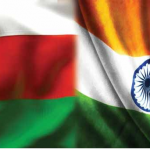 For the first time, Indian embassy at Oman is holding a five-month long 'Festival of India' in four major cities of Oman – Muscat, Sur, Sohar and Salalah. The festival began on 15 November and will go on till March 2017. The festival is being organized with the support of the Ministry of Culture, Government of India.
The festival has been organized with an objective of presenting glimpses of Indian culture, representing diverse traditions of Indian heritage to the people of Oman. Indian ballet and folk dances, Indian instrumental music, a food festival, an exhibition of calligraphy, film screening and a fashion show, among others will be showcased in the 5-month long festival.
Summary: India and Oman Relations
According to Oman's National Centre for Statistics and Information (NCSI), the number of Indians in Oman is pegged at 695,251 (as of October 2016). India and Oman has centuries old civilisational ties. The two countries are linked by geography, history and culture. Oman is an important maritime neighbour and a strategic partner of India. The cordial relations between the two countries can be ascribed to the historical maritime linkages and the seminal role played by the vibrant Indian expatriate community in development of Oman. Recently, in May 2016, India and Oman signed four Memorandums of Understanding (MoUs)/agreements on defence cooperation. Apart from this, new areas of cooperation are emerging between the two countries. For instance, Omani landscapes offer beautiful shooting locales to the Indian film industry.
Topics: Countries • Geography of Asia • Index of Oman-related articles • Muscat • Oman • Outline of Oman • Salalah • Sultanates • Western Asia
Advertisement