Geography Current Affairs, GK & News
The Indian National Centre for Ocean Information Services (INCOIS) and Airport Authority of India (AAI) has launched a new satellite-based GEMINI system that will alert deep-sea fishermen of upcoming disasters. The acronym 'GEMINI' stands for "GAGAN Enabled Mariner's Instrument for Navigation and Information"& is works on GAGAN (GPS-Aided Geo Augmented Navigation) satellite system of ISRO ..
Topics: Aids to navigation • Geography • Global Positioning System • GPS-aided GEO augmented navigation • In India • Indian Space Research Organisation • Navigation • Project Gemini • Spacecraft
What is Zero-Budget Natural Farming? The creator of the ZBNF model in India is Subhash Palekar and it was first practised in Karnataka state. He recommends the four aspects of ZBNF that are: Bijamrit, Jiamrit, Mulching and Waaphasa. Bijamrit is a microbial coating of seed, Jivamrit is an enhancement of soil microbes, Mulching is covering ..
Topics: Geography • GS1 • Zero based natural farming
A glacier is a large body of dense ice which is under constant movement driven in part due to its own heavyweight. A glacier is formed when the accumulation of snow in the area exceeds the rate of outflow (mainly by the melting and sublimation of snow) has taken place over several decades, even centuries. ..
Topics: Geography • Glacier • Indian Air Force • Water
The scientists from 17 nations will take part in the year-long MOSAiC mission as they anchor the ship to a large piece of Arctic sea ice to study climate change. The German icebreaker RV Polarstern will be the base for scientists studying the impact of climate change on the Arctic and how it could affect ..
Topics: Arctic Ocean • Arctic research • Extreme points of Earth • Fridtjof Nansen • Geography • Kara Sea • MOSAiC Expedition • North Pole • Oden • Physical geography • RV Polarstern • Ships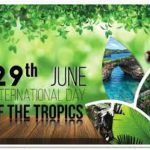 Every year 29 June is observed across the world as International Day of the Tropics, to celebrate extraordinary diversity of tropics while also highlighting unique challenges and opportunities Tropical nations face. About International Day of the Tropics Background: On 14 June 2016, United Nations General Assembly (UNGA) adopted resolution A/RES/70/267 which declared that henceforth each ..
Month: Current Affairs - June, 2019
Category: Important Days & Events Current Affairs
Topics: Days and Events • Environment • Geography • International Day of the Tropics • International Days • Trophics • United Nations