Fact Sheet: Rajasthan Legislative Assembly Elections, 2018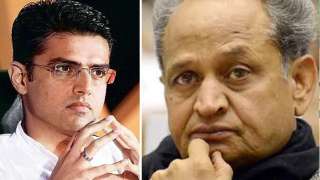 Rajasthan Legislative Assembly Election, 2018 was held on 7 December 2018 in a single phase. The election resulted in win of Indian National Congress and consequently, senior congress leader Ashok Gehlot was selected to be Chief Minister of the state. Some exam oriented questions & answers:
Structure of Legislature of Rajasthan
Rajasthan has a unicameral legislature and thus has only one house called Vidhan Sabha or Legislative Assembly, located in Jaipur, the state capital.
Unicameral and Bicameral Houses
At present, most Indian states have unicameral legislatures. Only seven states viz. Andhra Pradesh, Bihar, Jammu and Kashmir, Karnataka, Maharashtra, Telangana and Uttar Pradesh have bicameral legislature with one house being Legislative Assembly and other house being Legislative Council. Legislative Assembly is the lower or popular house while legislative council is the upper house.
The current strength of Rajasthan Assembly is 200 members. To form a government, a party or coalition needs 101 seats in the house.
Current composition of Rajasthan Assembly
The recent election was held for 199 seats of the state (1 seat is for nomination by Governor). The seat composition is as follows:

Past Chief Ministers
Since 1949, 14 people have served as Chief Minister of Rajasthan. Some important facts are as follows:
The first chief minister of Rajasthan was Heera Lal Shastri, who remained in office from 1949 to 1951.
The longest serving chief minister of Rajasthan was Mohan Lal Sukhadia who remained in office from 1954 to 1971 except a brief period of President Rule in between.
Vasundhara Raje Scindia is the first and only female chief minister of Rajasthan.
Current Chief Minister – Ashok Gehlot
Ashok Gehlot has recently become the chief minister of the state for third time. He entered into politics in early 1970s and has been active in both centre and state politics. He served as Union Minister in Indira Gandhi, Rajiv Gandhi as well as Narsimharao governments. His first term as Rajasthan CM was from 1998 to 2003, while second term was from 2008 to 2013. Currently, he represents Sardarpura constituency.
Deputy Chief Minister – Sachin Pilot
Sachin Pilot was member of 15th Lok Sabha representing the Ajmer constituency. He has also served as Minister of Corporate Affairs UPA-II government under Manmohan Singh. At present, he is the President of the Rajasthan Pradesh Congress Committee. He has been selected to be deputy chief minister of the state for the first time.
Month: Current Affairs - December, 2018
Topics: Ashok Gehlot • Elections • Elections in India • Legislative Councils • Rajasthan • Rajasthan Government • Sachin Pilot • Vidhan Sabha
Latest E-Books