Current Affairs – January 16, 2021 [Today's News Headlines]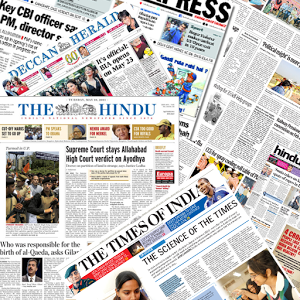 Here are Today's News Headlines by GK Today for January 16, 2021
India
Army Day celebrated on January 15
The 73rd Army Day was celebrated on January 15, 2021. The day marks the taking over of Lt Gen K M Cariappa (later Field Marshal) as commander-in-chief of the Indian Army in 1949 from General Francis Butcher, the last British commander-in-chief of India. During the Army Day parade in New Delhi, the Indian Army carried out a live demonstration of Drone Swarming capability using 75 indigenously designed and developed drones which executed an array of Artificial Intelligence (AI) enabled simulated offensive missions and close support tasks.
EAM S. Jaishankar holds discussions with Nepalese counterpart in Delhi
External Affairs Minister S Jaishankar on January 15, 2021 held talks with his Nepalese counterpart Pradeep Kumar Gyawali in New Delhi with a focus on various key aspects of the bilateral relations.
Ministry of Tribal Affairs wins SKOCH Challenger Award for e-Governance
Tribal Affairs Minister Arjun Munda will virtually receive SKOCH Challenger Award conferred to the Ministry of Tribal Affairs for e-Governance on January 16, 2021. The award has been given to the Ministry for its IT-led initiatives and other transformational initiatives leading to outcome-based performance improvement.
EC approves use of its data for vaccination drive by govt.
The Election Commission is said to have promised to extend "full assistance" to the government in identifying targeted beneficiaries at the polling station level for the COVID-19 vaccination drive, but wants health authorities to delete the data once the inoculation exercise is over.
Economy & Corporate
'Prarambh' Start-up India International Summit being held in New Delhi
The two-day 'Prarambh' Start-up India International Summit is being organised in New Delhi on January 15-16, 2021. Members of BIMSTEC (Bay of Bengal Initiative for Multi-Sectoral Technical and Economic Cooperation) countries participated in the inaugural event. The summit is being organized by the Department for Promotion of Industry and Internal Trade. The Summit was inaugurated by Commerce and Industry Minister Piyush Goyal.
Third Phase of PMKVY launched in 600 districts
The Third Phase of Pradhan Mantri Kaushal Vikas Yojana was launched on January 15, 2021 in 600 districts across the country. Spearheaded by the Ministry of Skill Development and Entrepreneurship, this phase will focus on new-age and COVID-related skills. Skill Development Minister Dr Mahendra Nath Pandey interacted with various students of the skill development centres. Skill India Mission-PMKVY 3.0 envisages training of eight lakh candidates over a scheme period of 2020-2021 with an outlay of Rs 949 crore. Prime Minister Narendra Modi launched the Skill India Programme in 2015.
India and Japan sign MoU to enhance cooperation in the field of ICT
India and Japan signed a Memorandum of Understanding (MoU) to enhance cooperation in the field of Information and Communications Technologies on January 15, 2021. The MoU was signed by Minister for Communications, Electronics and IT Ravi Shankar Prasad and the Japanese Minister for Internal Affairs and Communications Takeda Ryota. It was exchanged through a video conference.
1st indigenously developed Driverless Metro Car unveiled at BEML, Bengaluru
BEML, a defence public sector equipment manufacturer under the Ministry of Defence (MoD), on January 15, 2021 unveiled 'Driverless Metro Car' for Mumbai Metropolitan Region Development Authority (MMRDA). Defence Minister Rajnath Singh unveiled 'Driverless Metro Car' at a function held at BEML's Bangalore Complex. Singh also virtually launched the Aerospace Assembly Hangar, situated within BEML's Bangalore Complex, and unveiled the first indigenously manufactured Tatra Cabin by BEML.
Govt brings forward target of 20% ethanol-blending with gasoline by 2025
India plans to achieve 20% ethanol-blending with gasoline by 2025, five years ahead of its previous target, to help reduce its dependence on costly oil imports, the government said on January 14, 2021. In 2020, the government had set a target of reaching 10% ethanol-blending by 2022 – meaning 10% of ethanol mixed with 90% of gasoline – and 20% by 2030. India relies on foreign suppliers to meet more than 80% of its demand.
Foreign exchange reserves surge 748 million to $586.082 billion
India's foreign exchange reserves surged 748 million to $586.082 billion in the week to January 8, 2021, the Reserve Bank of India's data showed on January 15, 2021. Foreign currency assets rose by $150 million to $541.791 billion. Gold reserves rose by $568 million to $37.594 billion. The special drawing rights (SDR) and the central bank's reserve position with the International Monetary Fund (IMF) rose marginally by $5 million and 35 million respectively. They closed the week at $1.5 billion and $5.1 billion respectively.
India took 'decisive' steps to deal with coronavirus pandemic: IMF
IMF Managing Director Kristalina Georgieva has praised India for taking "very decisive" steps to deal with the coronavirus pandemic and its economic consequences and asked the country to do more this year to support an accelerated transformation of the economy.
World
Indonesia: 6.2-magnitude earthquake on Sulawesi island kills 10
A 6.2-magnitude earthquake on Indonesia's Sulawesi island killed at least 10 people and injured hundreds on January 15, 2021. Straddling the so-called Pacific 'Ring of Fire', Indonesia, a nation of high tectonic activity, is regularly hit by earthquakes. In 2018, a devastating 6.2-magnitude quake and subsequent tsunami struck the city of Palu, in Sulawesi, killing thousands of people.
Four UN peacekeepers killed in terror attack in Timbuktu region of Mali
Four peacekeepers of the United Nations Multidimensional Integrated Stabilization Mission in Mali (MINUSMA) from Cote d'Ivoire were killed in a terrorist attack in Timbuktu region of Mali on January 13, 2021.
Sports
Snesarev appointed as middle- and long-distance coach of Indian athletics team
Government has approved the appointment of Belarussian coach Nikolai Snesarev as the middle- and long-distance coach of the Indian athletics team. The 72-year-old has been appointed till the end of September, a period which will coincide with the Tokyo Olympics scheduled to take place in July-August.
Month: Current Affairs - January, 2021
Category: Today's News Headlines
Topics: Current Affairs Headlines • Current Affairs: News Headlines • Headlines • Latest News Headlines • News Headlines • Top Headlines
Latest E-Books