Communist Leader M V Raghavan Passes away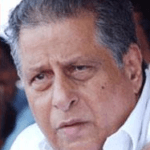 Communist Marxist Party (CMP) founder in Kerala and leader Melathu Veettil Raghavan died on 9th November 2014. He was 81. He died after a prolonged illness due to Parkinsons disease. He had served as Minister for Co-operation of Kerala for two terms in 1991-1996 and 2001-06 in United Democratic Front (UDF) coalition government.
About Melathu Raghavan
Melathu Raghavan is also known as MVR was born in Kannur, Kerala in 1933.
At the age of 15, he became part of the communist movement and then became the trade union leader. He was considered as a firebrand and inspiring leader of the Left mass.
In 1967, he was the CPI (M) party state secretary at Kannur and later became the state secretariat member of the party.
In 1986, he was expelled from the CPI (M) party due to difference in opinion with the leadership.
After he was expelled from the CPI (M) party, he founded the Communist Marxist Party (CMP) and later formed an alliance with Congress to form UDF.
He was seven time legislator in Kerala Assembly and served as a minister for two terms.
He was the founder of the Pariyaram Co-operative Medical College in Kannur District which was first medical college under co-operative sector in India.
He was also credited for setting up the cooperative establishments like Pappinissery Visha Chikilsa Kendram (Snake-venom removal centre), Snake Park and the Ayurvedic Medical College in Kerala.
Month: Current Affairs - November, 2014
Latest E-Books