China's Space Lab Tiangong-2 launches Micro-Satellite Banxing-2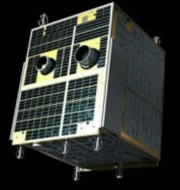 China's experimental space lab Tiangong-2 orbiting the Earth with two astronauts on board has successfully launched a micro-satellite Banxing-2.
The two astronauts were launched into space onboard of the Shenzhou-11 spacecraft carried two astronauts on 11 October 2016. It docked with Tiangong-2 on 13 October 2016.
About Banxing-2
The micro-satellite Banxing-2 is roughly the size of a desktop printer and the media has nicknamed "Selfie Stick". It weighs 47 kilogrammes.
It has series of visible light cameras, including a 25 megapixel camera and wide-angle imagers. It also has an infrared camera that is temperature-sensitive.
Its mission is to take photographs of Tiangong II and the Shenzhou 11 spacecraft, which has been docked with the lab.
The micro-satellite has three solar panels which generates enough power to adjust its orbit to shoot pictures of the lab and spacecraft.
its predecessor, Banxing-1, accomplished the same mission for Shenzhou VII in 2008.
Banxing-2 is new model of its predecessor Banxing-1 which had accomplished the same mission for Shenzhou VII in 2008. However Banxing-1 is smaller and has a higher capacity.
What are Micro-satellites?
They weigh around 500 to 100 kilograms. They are usually cheaper, faster and more advanced than traditional satellites. The commercial potential has attracted much attention from businesses.
Month: Current Affairs - October, 2016
Topics: Banxing 2 • China • Micro Satellites • Science and Technology • TIANGONG-2
Latest E-Books