Bru Tribe- Refugee Crisis, Issues, Conflicts, Resettlement, Protests in Tripura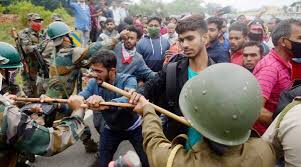 Parts of Tripura are witnessing violent protest recently due to the proposed resettlement of Bru tribals. Bru or Reang tribe is an indigenous community in the northeast, living in the states of Tripura, Assam and Mizoram. In Tripura, this community is recognised as a Particularly Vulnerable Tribal Group. In Mizoram, it is targeted by ethnic organisations demanding its exclusion from electoral rolls, forcing the tribe to flee to Tripura. In a bid to ensure their permanent settlement in Tripura, an agreement was signed between the Centre and the two states this year. This sparked protests from Bengalis and Mizo groups in Tripura.
What are the reasons for the Tripura protests?
In 1997, around 37000 Bru tribals flight from Mizoram to Tripura due to ethnic classes. Around 5,000 people have returned to Mizoram and the rest of the 32000 have settled in camps in Tripura. In January 2020, an agreement was signed between the state governments of Tripura and Mizoram and the central government and the Bru representatives. According to the agreement, 32000 people residing in the camps are to permanently settle in the state of Tripura. This agreement has led to the protests from Mizo groups and the Bengalis in the state of Tripura. According to them settling of these migrants permanently in the state will lead to demographic imbalance, law and order problems and will exert pressure on local resources.
Who are the Brus?
The Brus are the Indian Chinese community living in the Northeast region, mostly in the states of Assam, Tripura, Mizoram. In Mizoram, these tribals are targeted by the ethnic organisations. They demand that the Brus should be excluded from the electoral rolls. In Tripura, these tribals are recognised as Particularly vulnerable Tribal Group.
What is the Bru Tribal resettlement plan?
According to the agreement signed in January 2020, the state of Tripura has planned 12 resettlement spots in 6 districts. The central government is to fund 600 crores of rupees for the special development projects of the Brus. Every resettled family is to be provided with 1.5 lakh rupees of housing assistance, 0.03 acres of land for building home and 4 lakh rupees as one-time cash benefit. Apart from these the family will also be provided with a free ration and a monthly allowance of 5000 rupees for two years from the date of resettlement.
The protests are mainly to save the ancestral lands being allocated to the Brus.
Month: Current Affairs - December, 2020
Category: Awards, Persons & Places in News • India Nation & States Current Affairs • Places in News Current Affairs • States Current Affairs
Topics: Bru • Bru-Reang Refugee Crisis • Bru-Reang tribes • Mizoram • Particularly vulnerable tribal group • Tripura
Latest E-Books