400th Prakash Purab of Guru Tegh Bahadur commemorated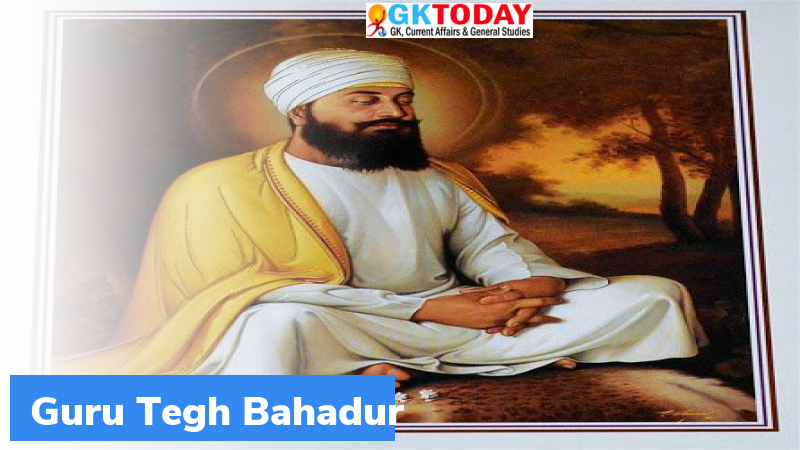 On May 1, 2021, India is celebrating four hundredth Prakash Purab of Guru Tegh Bahadur. He was the ninth Sikh Guru.
Guru Tegh Bahadur
He was born in Amritsar, Punjab in 1621. He was the youngest son of Guru Hargobind Sahib.
He wrote 115 hymns that were included in Guru Granth Sahib.
Guru Tegh Bahadur was executed on the orders of Aurangazeb. The Gurudwara Sis Ganj Sahib marks the execution place of Guru Tegh Bahadur and the Gurudwara Rakab Ganj Sahib marks the cremation place of Guru tegh Bahadur.
Shaheedi Divas
His martyrdom ( the suffering of death on account of adherence to a cause ) is commemorated as Shaheedi Divas of Guru Tegh Bahadur. It is commemorated on 24th November every year.
Guru Granth Sahib
It is the religious scripture of Sikhism. According to the Sikhs, it is the final, sovereign and eternal guru.
The first rendition of Guru Granth Sahib is called the Adi Granth. It was compiled by the fifth guru Arjan Dev. He completed the Adi Granth in 1604 and installed it inside the Golden temple in Amritsar.
Later Guru Har Gobind Singh added Ramkali Ki Vaar. Finally, Guru Gobind Singh added the hymns composed by Guru Tegh Bahadyr. Guru Gobind Singh was the tenth guru of the Sikhs.
Golden Temple and Operation Blue Star
There were insurgencies in Punjab for a separate Sikh homeland called Khalistan.
In 1973, Akali Dal passed Anandpur Resolution demanding for more autonomy to the states. Akali Dal was a political party in Punjab.
In 1982, Akali Dal and Bhindranwale joined hands to implement the Anandpur Resolution.
In 1983, Bhindranwale fortified the Golden Temple complex. He started hiding there to avoid arrest.
In 1984, the then Prime Minister Smt Indira Gandhi sent the Indian Army to the Golden temple to capture Jarnail Singh Bhindranwale. The Indian Army launched "Operation Blue Star" to capture Bhindranwale.
Month: Current Affairs - May, 2021
Category: Awards, Persons & Places in News • Important Days & Events Current Affairs
Topics: Golden Temple • Gur Tegh Bahadur • Guru Gobind Singh • Guru Granth Sahib • Guru Hargobind Singh • Operation Blue Star • Shaheedi Divas
Latest E-Books