Consumer Affairs Ministry launches 'Consumer App' for registering grievances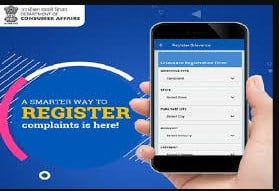 Union Consumer Affairs Ministry launched a mobile app called 'Consumer App' to help consumers across the country to register their grievances online at the same time provide suggestions on several consumer-related issues. It is a step taken towards achieving the objective of digital India.
About Consumer App
The app has been developed by National Informatics Centre (NIC). It is available for free in English and Hindi and can be downloaded on Android and iOS platforms from Play Store/Apple Store.
The complaint lodged by a consumer via this app would be forwarded and referred to respective consumer platform.
The complaints will be monitored on a daily basis and once in a week a meeting will also be conducted with in-charges of app, secretary, joint secretary in-charge and other officials. At this meeting the stock of weekly complaints reported, the nature of the complaint and other aspects will also be discussed.
Services Offered:
It is a user-friendly app and any consumer can file a complaint via this app which will be further referred to respective companies. There are almost 42 sectors of consumer durables, e-commerce, air travel, real-estate, banking, electronic products and several other categories, about which a consumer can gain information and register complaint via this app which also includes tracking his complaint status via this app.
The ministry will process the complaints for redressal for nearly 250 categories of products and services and consumers will get regular update about the status of their complaints and these will be closed only when consumers submit that issues are resolved or they are satisfied.
As per the claims made by Ministry the consumer complaints will be redressed at least within 20 days and a maximum of 60 days.
Tags: Consumer Affairs Ministry • Consumer App • Grievance redressal • Online app
Month: Current Affairs - October, 2019