'Azadi Quest': Mobile games based on freedom struggle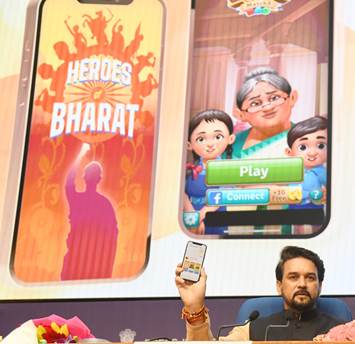 To bring to the fore the story of the heroes of the Indian freedom struggle, the Union Minister for Information and Broadcasting, Shri Anurag Singh Thakur recently launched 'Azadi Quest', a series of online educational mobile games developed in association with Zynga India.
Key Points
In Azadi Quest game information about anonymous freedom fighters from different corners of the country has been collected by various departments of the Government of India.
This initiative is designed to engage players of all ages and harness the power of interactive entertainment as an educational experience about this important era.
The first game in this series 'Azadi Quest: Match 3 Puzzle' is a very simple and easy to play casual game, which presents the players the glorious journey of India's independence from 1857 to 1947.
The games are available for Android and iOS devices in English and Hindi for the people of India and will be available worldwide from September 2022.
Why has the government launched this game?
These games are an effort towards tapping the huge market of online gamers and educating them through games. So that children can learn from their stories. Because the number of people playing online games in India has increased by eight percent from 2020 to 2021, after which India has joined the top five countries in the field of gaming. The same, by 2023, the number of people playing such games is expected to reach 450 million.
Zynga India
Online gaming company Zynga India was founded in 2010 in Bangalore and has created some of the most popular game franchises on mobile and web. Games from Zynga are available in over 150 countries and are playable on social platforms and mobile devices worldwide.
Tags: Anurag Singh Thakur • Azadi Ques • Azadi Quest • Indian freedom struggle • Mobile games
Month: Current Affairs - August, 2022
Category: Science & Technology Current Affairs