ASEAN Defence Meeting Plus Counter-Terrorism Exercise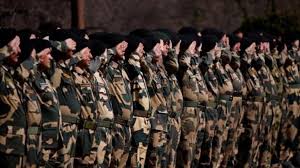 An Indian Army contingent embarked on a journey to Russia to participate in the ASEAN Defence Ministers Meeting Plus Expert Working Group on Counter Terrorism. This significant event, known as the Counter Terrorism Field Training Exercise (FTX) 2023, is scheduled to take place from September 25th to September 30th. The Ministry of Defence issued a statement announcing their participation.
Participation in Counter Terrorism FTX 2023
The Indian Army Contingent, consisting of 32 personnel from a Battalion affiliated with the RAJPUTANA RIFLES, has departed for the ASEAN Defence Ministers Meeting (ADMM) Plus Expert Working Group (EWG) on Counter Terrorism Field Training Exercise (FTX) 2023 in Russia.
Russia is hosting this multinational joint military exercise as a co-chair of the EWG, along with Myanmar.
The event follows a Table Top Exercise of the ADMM Plus EWG on Counter-Terrorism held in Nay Pyi Taw, Myanmar, from August 2nd to August 4th.
A Platform for Regional Cooperation
Since 2017, the ADMM Plus convenes annually to facilitate dialogue and cooperation among the Association of Southeast Asian Nations (ASEAN) and Plus countries.
The inaugural ADMM Plus took place in Ha Noi, Vietnam, on October 12, 2010.
This year, ASEAN member states and the Plus Group will participate in the exercise, fostering regional collaboration in counter-terrorism efforts.
Objective of the Exercise
The Counter Terrorism FTX 2023 encompasses various counter-terrorism drills, including operations to eliminate terrorist groups in fortified areas.
The primary aim of the exercise is to enhance and promote regional cooperation in the field of counter-terrorism.
It provides the Indian Army with an opportunity to share their expertise and best practices in counter-terrorism operations while strengthening cooperation among the other 12 participating countries.
Looking Forward to Professional Growth
The Indian Army anticipates a valuable and enriching professional experience from its participation in the exercise.
The Ministry of Defence expressed its enthusiasm for the event, emphasizing the importance of sharing knowledge and working together to combat terrorism effectively.
Month: Current Affairs - September, 2023
Category: Defence Current Affairs