Why there is a need to integrate agricultural sector with Poshan Abhiyan?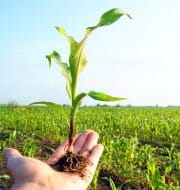 National nutrition mission or Poshan Abhiyan is a flagship programme of the government which aims to improve nutritional outcomes for children, adolescents, pregnant women and lactating mothers. The Abhiyan also complements the strategies to achieve the goal under the sustainable development goal of zero hunger.
How Agricultural sector can aid in attaining of these objectives?
Agricultural sector can become the backbone of the programme and aid to achieve the objectives of the Abhiyan.
India needs to tackle the twin challenge of malnutrition along with obesity and overweight.
The agricultural intervention by increasing the production of targeted nutrition-rich crops (nutri-cereals), homestead gardens, and diversification of the agricultural production system towards fruits, vegetables and aquaculture can aid in addressing the adverse effects of the twin burden.
Integrating agriculture with Poshan Abhiyan
Poshan Abhiyan advocates the 3A approach to cash in on the capacity of ASHA, Anganwadi Worker (AWW) and Auxiliary Nurse Midwife (ANM) workers.
These extension workers have a direct and ongoing contact with smallholder farmers. They can be the flag bearers of change to promote nutrition sensitive agriculture.
Poshan Abhiyan needs a multi sectoral approach and it cannot operate in isolation. Integrating Poshan Abhiyan with agriculture is a need which cannot be left untouched. Currently the agricultural sector is out of the scope of the Abhiyan. This needs to be addressed.
Topics: GS-II: Government Policies and Interventions for Development in Various Sectors