Type 1 diabetes Current Affairs, GK & News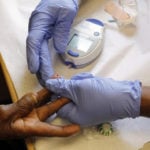 The International Diabetes Federation (IDF) has released latest figures that highlight the alarming growth in the prevalence of diabetes around the world.  These figures were published on the 14 November, World Diabetes Day in the ninth edition of the IDF Diabetes Atlas.  It shows that Pakistan is now in the top 10 countries for an ..
Topics: Diabetes • Epidemiology of diabetes • International Diabetes Federation • Medicine • Organ systems • RTT • Type 1 diabetes • World Diabetes Day
The researchers at the Indian Institute of Technology (IIT) Guwahati have successfully created an implantable bioartificial pancreas model grown within a 3D silk scaffold. The bioartificial pancreas, which encapsulates insulin-producing cells, is capable of naturally producing insulin in a sustained manner. If successful in animal and human trials, it can be used for treating people ..
Topics: Artificial pancreas • Beta cell • Biomedical engineering • Branches of biology • Diabetes • Eli Lilly and Company • Endocrine system • Insulin • Medicine • Pancreas • RTT • Type 1 diabetes