Turtle Current Affairs, GK & News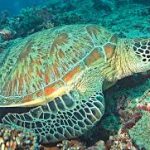 The turtle population in Red Sea is turning female due to rise in sea temperature. A Team of researchers from the Saudi Arabia King Abdullah University of Science and Technology conducted a study. They selected five sites in the region that are favoured by Green Turtles and Hawksbill. The researchers collected data for every fifteen minutes ..
Month: Current Affairs - December, 2020
Category: Environment Current Affairs
Topics: Critically endangered • Endangered • IUCN • IUCN Red List • IUCN Red list of Threatened Species • Ridley sea turtle • Sea turtles • Turtle • Turtles • Vulnerable • World Turtle Day
A Red Crowned Roofed Turtle, a critically endangered species, in Madras Crocodile Bank Trust was adopted by a family in another continent. Distribution The Red Crowned Roofed Turtle is endemic to India. It is also found in Nepal and Bangladesh. Its historical range included the Ganga River basin and the Brahmaputra River basin. The only ..
Topics: Brahmaputra • Ganga • Madras Crocodile Bank Trust • Turtle
A team of herpetologists from the Forest Department and two NGOs — Help Earth and Turtle Survival Alliance (TSA) have discovered the Impressed Tortoise (Manouria impressa) in Yazali area of the Lower Subansiri district of Arunachal Pradesh. This is the first-ever recorded sighting in India of this tortoise which is on a red list of ..
Topics: Animals • Asian forest tortoise • Impressed tortoise • Manouria • Reptiles • Tortoise • Turtle • Turtle Conservancy • Vertebrates • Yellow-footed tortoise
The World Turtle Day (WTD) is observed every year on May 23 across the world to bring attention to, and increase knowledge of and respect for, turtles and tortoises, and encourage human action to help them survive and thrive. This year, in 2019, the India Biodiversity Portal (IBP) initiated a 'Turtle Spotting Week' as part ..
Topics: Sea turtle • Tortoise • Turtle • Turtle Conservancy • World Turtle Day
The only known female member of one of the world's rarest turtle species has died at a zoo in southern China. The animal was one of four Yangtze giant soft-shell turtles known to be remaining in the world. Some Facts Related to Yangtze giant Turtle It is also known as the Red River giant softshell ..
Topics: Cantor's giant softshell turtle • Cryptodira • Rafetus • Reptiles • Softshell • Spotted softshell turtle • Suzhou Zoo • Trionychidae • Turtle • Turtles • Yangtze • Yangtze giant softshell turtle