RIL Current Affairs, GK & News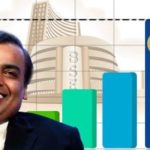 Mukesh Ambani-led Oil-to-telecom major Reliance Industries (RIL) has become the first company in India to hit the market capitalisation (m-cap) of Rs.9 lakh crore. RIL was also the first company to reach Rs.8 lakh crore mark in August 2018. IT giant Tata Consultancy Services (TCS) was at a distant second with a m-cap of Rs.7.66 ..
Month: Current Affairs - October, 2019
Category: Economy & Banking Current Affairs
Topics: Market Capitalisation • Mukesh Ambani • Reliance Industries • RIL • TCS
Telecom-to-energy conglomerate Reliance Industries (RIL) and India's largest lender State Bank of India (SBI) have signed Subscription and Shareholders' Agreement to set up payments bank. As per the agreement, RIL will be the promoter with a 70 per cent equity contribution in the payments bank and SBI as joint venture will have 30 per cent ..
Month: Current Affairs - July, 2016
Topics: Banking • Business • Financial inclusion • RIL • SBI
The Petroleum Ministry has stated that the Comptroller and Auditor General (CAG) has the right to undertake the audit of Reliance Industries Ltd (RIL)'s KG D6 block on behalf of the government. As per the Ministry, CAG can undertake the audit of block KG-DWN-98/3 of RIL under Section 20 of the CAG's Duties, Powers and ..
Month: Current Affairs - March, 2013
Topics: CAG • Current Affairs 2013 • March 2013 • Ministry of Petroleum & Natural Gas • RIL
The Directorate-General of Hydrocarbons (DGH) has held back approvals for work programme (WP) and budget for KG-DWN-98/3 (KG-D6) block for 2012-13 and 2013-14. DGH has sought an explanation on various issues including the decision of the operator to cancel the plan of drilling two approved development wells and inability to adhere to the management committee ..
Month: Current Affairs - February, 2013
Topics: Current Affairs 2013 • February 2013 • KG-D6 • RIL
Mukesh Ambani- led Reliance Industries Limited (RIL) has terminated all its lobbying activities among US lawmakers after having spent nearly 2 million dollars (over Rs 10 crore) to its lobbyist firm, Barbour Griffith & Rogers LLC (BGR), in the past 4 years. BGR has lobbied for RIL in the areas of 'domestic and foreign trade' ..
Month: Current Affairs - January, 2013
Topics: Current Affairs 2013 • January 2013 • RIL