Page-2 of
Politics Current Affairs, GK & News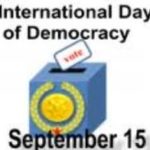 The International Day of Democracy 2019 was observed on September 15. The day is celebrated to promote the tenets of democracy. 2019: Theme The theme of the world democracy day 2019 is "Participation". Active participation of people is a key for the democracy to succeed. Article 21 (3) of the Universal Declaration of Human Rights states: "The ..
Topics: Democracy • E-democracy • Elections • Inter-Parliamentary Union • International Day of Democracy • Organization for Security and Co-operation in Europe • Parliamentary assemblies • Politics • Types of democracy • United Nations General Assembly observers • Universal Declaration of Human Rights
The United States has officially withdrawn from Intermediate-Range Nuclear Forces (INF) Treaty with Russia. The INF Treaty is a Cold War-era missile treaty that was signed by then US President Ronald Reagan and Soviet leader Mikhail Gorbachev in 1987. The treaty banned both countries from deploying land-launched cruise missiles in the 500- to 5,500-km range. ..
Topics: Cold War • Cruise missile • Intermediate-Range Nuclear Forces Treaty • International Relations • Mikhail Gorbachev • Perestroika • Politics • Presidency of Ronald Reagan • RK-55
On 31st July, Prime Minister Narendra Modi held the thirtieth interaction through PRAGATI – the ICT-based, multi-modal platform for Pro-Active Governance and Timely Implementation. About PRAGATI PRAGATI is a multi-purpose and multi-modal platform aimed at addressing grievances of the common man. It also aims at simultaneously monitoring and reviewing important Union government programmes and projects ..
Topics: E-governance • Federalism • Governance • PMO • Political philosophy • Politics • PRAGATI • Pro-Active Governance and Timely Implementation
Yukiya Amano ( 72), the former Japanese diplomat and International Atomic Energy Agency (IAEA) Chief, has passed away on 23rd July 2019. He had been chief of the key U.N. agency that regulates nuclear issues worldwide since 2009. It is not yet clear who will succeed Amano on an interim basis. During his tenure, Amano ..
Topics: Abdul Minty • Amano • Fukushima Daiichi nuclear disaster • International Atomic Energy Agency • International Relations • Massimo Aparo • Nuclear proliferation • Nuclear weapons • Politics • Yukiya Amano
The 2nd edition of International Day of Parliamentarism (IDP-2019) is celebrated across the world on 30th June to recognize the importance of parliaments and their responsibility of representing the people. The day is not only an occasion to stress the critical importance of parliaments in any democratic society but also to reinforce the call for ..
Topics: Althing • Bicameralism • Forms of government • Government • Inter-Parliamentary Union • Legislatures • Parliament • Political philosophy • Politics • Unicameralism • United Nations Parliamentary Assembly • Westminster system