Pakistan: Current Affairs, GK & News - 2020-2021
Published: April 5, 2019
Social Media Group, Facebook has abolished 103 pages, accounts and groups that were part of a network connected to employees of the Pakistani military's public relations arm. Pages and accounts have been removed from Facebook and Instagram that spread information about Pakistani politics and, the Indian government and the Pakistani military. This will engage to ..
Topics: Computing • Facebook • Instagram • Operating systems • Pakistan • Photo sharing • Social information processing • Social media • social media group • Software
State of Global Air 2019
Published: April 4, 2019
The US-based organisation Health Effects Institute (HEI) has released the State of Global Air 2019. The findings of the Study are: Overall long-term exposure to outdoor and indoor air pollution contributed to nearly five million deaths from stroke, diabetes, heart attack, lung cancer, and chronic lung disease in 2017. Out of these, three million deaths ..
Month: Current Affairs - April, 2019
Category: Environment Current Affairs
Topics: Air pollution • Asia • Bangladesh • Bharat stage-VI • China • Diabetes • Heart Attack • Lung cancer • Malaria • malnutrition • National Clean Air Programme • Nepal • Pakistan • Pradhan Mantri Ujjwala Yojana • State of Global Air • State of Global Air 2019
Pakistan government to establish Sharda corridor plan
Published: March 28, 2019
There was a proposal of the Pakistan government to establish a corridor that will allow Hindu pilgrims from India to visit Sharda Peeth, an ancient Hindu temple and cultural site in Pakistan-occupied Kashmir (PoK). However, on 28 March 2019, Pakistan said no decision has been taken so far on the opening of the Sharda temple corridor ..
Topics: Adi Shankara • Azad Kashmir • Continents • Geography of Asia • Hindu temple architecture • Kashmir Conflict • Neelam District • Pakistan • Peeth • Sharada Peeth • Sharda • Sharda, Azad Kashmir
Pakistan to send report on forceful conversion of 2 kidnapped Hindu girls
Published: March 25, 2019
Sushma Swaraj, External Affairs minister has asked Indian High Commissioner in Pakistan to send a report on incident where 2 minority Hindu girls were kidnapped on Holi in Sindh province. The 2 girls, 13 year-old Raveena and 15-year old Reena were allegedly kidnapped and forcibly converted to Islam in Ghotki district. This incident has led the ..
Topics: Christianization • Cricket • Forced conversion • Ghotki • Holi • Imran Khan • Islamization • Pakistan • Religious conversion • Sindh
India boycotts Pakistan National Day Events
Published: March 25, 2019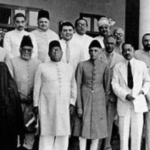 India has boycotted the events of the Pakistan National Day in protest against the invitation to Hurriyat leaders for the National Day reception being held at New Delhi. India has strongly objected to the direct engagement of Pakistan with Hurriyat representatives who are spearheading a separatists movement in the state of Jammu and Kashmir. Pakistan ..
Month: Current Affairs - March, 2019
Topics: Assam • Baluchistan. • Bengal • Hurriyat leaders • India- Pakistan • Lahore • Lahore Declaration • Minar-e-Pakistan • North-West Frontier Province • Pakistan • Pakistan National Day • Pakistan Resolution • Punjab • Sindh
Advertisement