Malayalam language Current Affairs, GK & News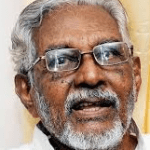 Renowned poet and Malayalam scholar Puthussery Ramachandran recently passed away at the age of 91. He played an instrumental role in making Malayalam getting recognised as a classical language by the union government in 2013. Ramachandran has won several prestigious awards, including the Sahitya Akademi award, the Ezhuthachchan Puraskaaram in 2015, Kerala Sahitya Akademi award ..
Topics: Kerala Sahitya Akademi Award • Malayalam • Malayalam language • Sahitya Akademi
M K Sanu, the well-known critic, biographer and orator, has been chosen for the Mathrubhumi Literary Award for 2017 in recognition of his rich contribution to the Malayalam literature. The award carries a cash prize of Rs 2 lakh, a citation and a statuette. Sanu is a permanent member of International body for Human rights. ..
Topics: Indian Literature • Kerala • M. K. Sanu • Malayalam language • Malayali people • Mathrubhumi • Mathrubhumi Literary Award • Mulanthuruthy
T D Ramakrishnan has been chosen for the 2017 Vayalar Ramavarma Literary Prize for his novel "Sugandhi Enna Andal Devanayaki". The 40th award ceremony will be held on 27th October 2017, the death anniversary of the late poet and lyricist Vayalar Ramavarma. The Vayalar Award is given for the best literary work in Malayalam. It ..
Topics: Indian culture • Indian films • Indian Literature • Malayalam language • Malayali people • T. D. Ramakrishnan • Vayalar Award • Vayalar Ramavarma