Fossils Current Affairs, GK & News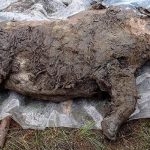 A perfectly preserved woolly Rhinoceros was found by scientists in Yakutia in Russia. Where was the Ice Age Rhino found? The Ice Age Rhino was discovered on the bank of Tirekhtyakh river. What are findings about the Ice Age Rhinos? Most of the intestine of the Rhino was intact. Also, the Rhino had perfectly preserved ..
Month: Current Affairs - January, 2021
Category: International Current Affairs
Topics: Fossils • Ice age • Oil spill • Permafrost • Rhinoceroses • Russia • Tirekhtyakh River
The Paleontologists of Canada have linked human hands to the fins of fish. The researchers examined a fossil of "Elpistostege". About the findings The Elpistostege represents the pivotal stage of transition of fish into land vertebrates. The transition was supported by the front fins of the fish called the pectoral fins. These fins had radial ..
Month: Current Affairs - March, 2020
Category: International Current Affairs
Topics: Elpistostege • England • Evolution • evolution of life • Fossils
Scientists recently studied an ancient molluscan (Torreites sanchezi) fossil to estimate the length of day, 70 million years ago. Torreites sanchezi The Torreites sanchezi is a species of molluscan (shelled animal) that belongs to an extinct group of clams called the rudist clams. They lived during the Late Cretaceous period, about 70 million years ago. ..
Topics: Earth Day • Fossils • Late Cretaceous Period • Moon's Retreat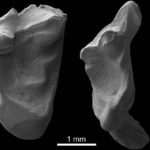 Palaeontologists from University of Portsmouth, UK have discovered remains of humankind's oldest mammal ancestor — a tiny rat-like creature that lived 145 million years ago. The fossils of nocturnal mammal were discovered on Jurassic Coast of Dorset. The mammal is earliest in line that evolved into humans and branched off into creatures as diverse as ..
Month: Current Affairs - November, 2017
Topics: Durlstotherim newmani • England • Fossils • Human evolution • Science and Technology