Crop rotation Current Affairs, GK & News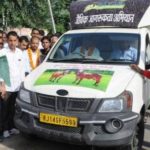 Rajasthan Agriculture Minister Lal Chand Kataria flagged off a Prachar Rath to promote organic and zero budget natural farming (ZBNF) among the farmers. Prachar Rath The initiative aims to build awareness among the farmers about organic and ZBNF which reduces agricultural input costs, encourage the use of bio-fertilisers, replace pesticides with traditional material and give tips for ..
Topics: Agricultural soil science • Agriculture • Agronomy • Crop rotation • Farm • Natural farming • Organic farming • Organic food • Primary sector of the economy • Subhash Palekar • Sustainable agriculture
Owing to the efforts under the Green Revolution wherein farmers adopted modern inputs and technology to increase production, India successfully avoided the spectre of food shortages. But this came at a cost in the form of overexploitation of natural resources, especially soil and water. The crisis is so extreme that it has brought the issue ..
Topics: Agricultural soil science • Agriculture • Agronomy • Crop rotation • Improving Organic Content in Soils • Land management • Nature • No-till farming • Soil • Soil carbon • Soil management • Soil science • Sustainable agriculture
Organic farming is a farming method that relies on natural systems and not chemical compounds. How organic farming works? It mostly avoids or largely excludes the use of synthetically compounded fertilizers (NPK/Urea), pesticides, growth regulators for crops or the use of genetically modified organisms and livestock food additives. To the maximize the benefits from organic ..
Topics: Crop rotation • farming • green manures • Organic Farming
In Relay cropping second crop is planted even before the first crop is harvested. Thus, both crops share some part of the season. In India, Rice –cauliflower – onion-summer gourd is one example of relay cropping. Advantages: Less risk since yields do not depend on one crop alone. Better distribution of labor. Some diseases and ..
Topics: Agriculture • Agroecology • Agroforestry • Agronomy • Applied sciences • Crop rotation • Crops • Intercropping • Legume • Multiple cropping • Permaculture • Sustainable agriculture
A web-based system has been developed by the Indian Institute of Soil Science that will suggest farmers the right quantity of fertilizers they should use in their soils for a particular type of crop. How does the system work? The software considers the soil type in different districts of the country and available nutrient in ..
Month: Current Affairs - August, 2012
Topics: Agricultural soil science • Agriculture • Agroecology • Crop rotation • Fertilizers • Indian Institute of Soil Science • Nature • Nutrient management • Soil • Urea