United States Capitol Protests, 2021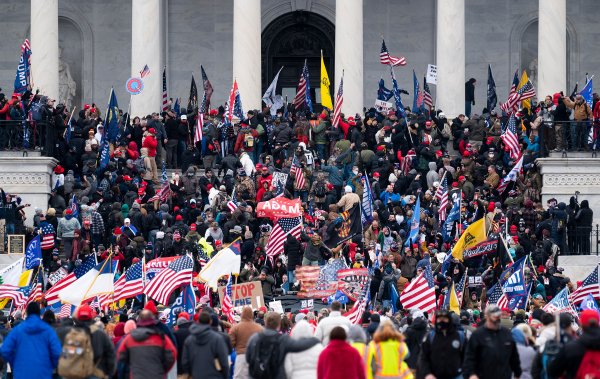 On January 5 to January 6, 2021, the US President Donald Trump supporters gathered in Washington DC to protest against the results of recent US President Elections
What are the United States Capitol Protests?
On January 6, 2021, the protesters gathered for the "Save America" rally. During the rally the attendees heard speeches of President Trump. The rally culminated in a riot. Eventually the protesters invaded the United States Capitol building. President Trump instructed his supporters to march into the Capitol building to overturn the elections. It ended up in an armed standoff. The storming of the building and the riots are being described as sedition, infection and domestic terrorism. Some sources even refer it to an attempted coup. The series of these incidents leading to the invasion of US Capitol building are called United States Capitol Protests.
What are the key events of United States Capitol Protest?
Trump rally in Washington
On January 6, 2021, protestors gathered around the Washington monument to Rally against the recent US elections and its results. At the rally the President Trump told his supporters to March on the Capitol building.
What is Washington Monument?
It is an obelisk that was built to commemorate George Washington. He once served as the commander in chief of the continental Army. He was the first president of United States.
Rioting in the capitol building
The rioters attempted to storm the buildings in the US Capitol Complex. The buildings in the complex were evacuated and rioters broke passed the security and entered the national statutory hall. The protestors were so violent that the law enforcement had to use tear gas within the building.
What is National Statutory Hall?
It is a chamber in the United States Capitol building that is devoted to sculptures of prominent Americans.
What was the reaction of the US government?
A one thousand one hundred strong force of the DC National Guard was sent to quell the violence. The order was initially resisted by President Trump and was signed by the Vice President.
What is United States Capitol Complex?
The complex is a group of more than a dozen of buildings that is located in Washington DC. The buildings are used by the US Federal Government. The Capitol Building in specific is the meeting place of the United States Congress. It is also the seat of the legislative branch of the United States Federal government. It was built in 1800. Earlier to this violent protest, the Capitol building faced similar attacks during burning of Washington in 1814.
What is Burning of Washington?
On August 24, 1814, during the Battle of Bladensburg, a British force led by major general Robert Ross Set Fire to multiple government buildings including the White house and the Capitol Building. This is referred to as burning of Washington.
Month: Current Affairs - January, 2021
Category: International / World Current Affairs
Topics: Capitol Protest • Donald Trump • Save America Rally • US protests • Washington D.C
Latest E-Books