Second tranche of Bharat-22 ETF oversubscribed, receives bids worth Rs 15,436 crore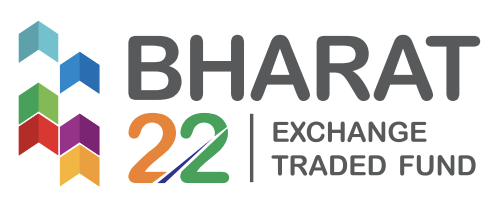 The second tranche of Bharat-22 Exchange Traded Fund (ETF), comprising shares of 22 companies, has received bids worth Rs. 15,436 crore, much higher than government's fund raising target. The second tranche was targeted to achieve fund mop up of Rs 6,000 crore with green-shoe option for another Rs. 2,400 crore.
Key Facts
At the end of the bidding of second tranche, the ETF was over-subscribed by 2.57 times base issue size of Rs. 6,000 crore. Total of 1.2 lakh bids were made for the follow-on fund offer (FFO), attracting wide participation across all investor segments. The government is also likely to exercise green-shoe option to retain additional Rs 2,400 crore worth bids received.
Bharat-22 ETF
Bharat 22 is a well-diversified ETF spanning six sectors — basic materials, energy, finance, industrials, FMCG and utilities. The sector wise weightage in the Bharat 22 Index is industrials (22.6%), finance (20.3%), utilities (20%), energy (17.5%), FMCG (15.2%) and basic materials (4.4%). It was launched by Union Government to meet some part of its disinvestment target of Rs. 80,000 crore in current fiscal.
The banking segment includes stocks from State Bank of India (SBI), Axis Bank, Bank of Baroda (BoB), Indian Bank, Rural Electrification Corporation and Power Finance Corporation. The energy segment includes Oil and Natural Gas Corporation (ONGC), Indian Oil Corporation (IOC), Bharat Petroleum (BP), and Coal India.
 
Exchange-traded funds (ETFs)
ETFs are essentially index funds that are listed and traded on exchanges like stocks. They are basically basket of stocks with assigned weights that reflects the composition of an index. They are similar to mutual funds in a certain manner but are more liquid as they can be sold quickly on stock exchanges like shares. The ETFs trading value is based on the net asset value of the underlying stocks that it represents. Their trading value is based on net asset value of the underlying stocks that it represents. Their price changes daily as they are traded throughout day. ETF route is considered as safer mode of disinvestment as it shields investors against stock market volatility.
Month: Current Affairs - June, 2018
Topics: BHARAT-22 ETF • Business • Economy • Exchange-traded funds
Latest E-Books