Supreme Court gets Four New Judges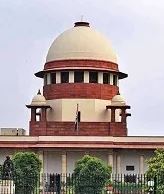 President Ram Nath Kovind has appointed four new judges to the Supreme Court based on the proposals sent by the Ministry of Law. These appointments took the number of judges in Supreme Court to 34 and it is highest ever in the history of the Apex Court.
Elevation to Supreme Court
The Law Ministry acting on the recommendation of the collegium headed by the Chief Justice of India Ranjan Gogoi had recommended the names of Himachal Pradesh Chief Justice V. Ramasubramanian, Punjab and Haryana Chief Justice Krishna Murari, Rajasthan Chief Justice S.A. Ravindra Bhat and Kerala Chief Justice Hrishikesh Roy for the elevation to Supreme Court.
The recommendations of collegiums were based on combined seniority of All-India basis of Chief Justices and senior puisne Judges of High Courts, apart from their competence, conduct and integrity.
Justice V Ramasubramanian
Justice Ramasubramanian did his Bachelor's in science from Vivekananda College in Chennai and Law from the Madras Law College, before enrolling as a member of the bar on February 16, 1983.
He was appointed as Additional Judge of the Madras High Court on July 31, 2006 and as a permanent Judge on November 9, 2009. He later served in High Courts of Telangana and Andhra Pradesh. He was sworn in as the Chief Justice of Himachal Pradesh High Court on June 22, 2019.
Justice Krishna Murari
Justice Murari did his law degree from the Allahabad University, and was enrolled as an advocate on December 23, 1981.
Justice Murari was appointed as an Additional Judge of the Allahabad High Court on January 7, 2004, and as a permanent Judge on August 18, 2005. He took over as Chief Justice of Punjab at Haryana High Court on June 2, 2018.
Justice S Ravindra Bhat
Born in 1958, Justice Bhat graduated in law from Campus Law Centre of the Delhi University and enrolled with the Delhi Bar Council the same year.
After practising before the Delhi High Court and the Supreme Court, he was appointed an Additional Judge of the Delhi High Court in 2004 and a permanent Judge in 2006. He was appointed Chief Justice of the Rajasthan High Court on May 5 2019.
Justice Hrishikesh Roy
Justice Hrishikesh Roy did his LL.B from Campus Law Centre of the Delhi University in 1982. He was sworn in as an Additional Judge of Gauhati High Court on October 12, 2006, he was made a permanent judge with effect from July 15, 2008.
Justice Hrishikesh Roy was sworn-in as the 35th Chief Justice of the Kerala High Court on August 8, 2018, after being its Acting Chief Justice since May 30, 2018, on his transfer from the Gauhati High Court.
Topics: Gauhati High Court • High Courts of India • Hrishikesh Roy • Judges • Judiciary of India • Krishna Murari • Madan Lokur • Shripathi Ravindra Bhat • V. Ramasubramanian
Latest E-Books