Two new species of Cycas discovered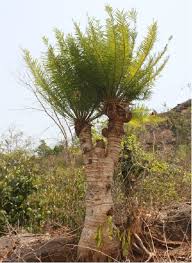 Research conducted on Cycas pschannae, a lone tree found in the Acharya Jagadish Chandra Bose Indian Botanic Garden, West Bengal has revealed two new species of Cycas to the world. This discovery takes the total number of Cycas species found in India to 14.
Cycas
Cycas are one of the most ancient plants whose fossils date to the Jurassic period. They are often referred to as living fossils. They have evolved on the earth as the first seeded plants and they grow very slowly, adding only a few centimetres every year. Nearly 65% of Cycas are threatened. There are over 100 species of Cycas found across the globe.
Key Facts
Initial studies on the lone Cycas pschannae tree revealed that it was Cycas, a gymnosperm. Further research based on its anatomical and morphological characters led to the discovery of new species of Cycas pschannae and later Cycas dharmrajii in the Andaman and Nicobar Islands.
Cycas dharmrajii is characterised by the abnormal branching habit of its giant trunk and its swollen base. It has well-defined 10 to 28 hook-like structures in the apex of the mega sporophyll which makes it distinct from other Cycas found in the country. Sporophylls are spore-bearing leaf-like female sex organ of the plant. The sporophylls of Cycas pschannae are characterised by the presence of two lateral horn-like structures.
Month: Current Affairs - August, 2017
Category: Science & Technology Current Affairs
Topics: Andaman & Nicobar • Cycas • Cycas dharmrajii • Cycas pschannae • Plant Species • Science and Technology • West Bengal
Latest E-Books