September 19: International Coastal Clean-Up Day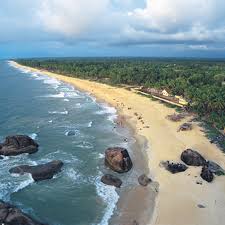 Every year, the International Coastal Clean-Up Day is celebrated on the third Saturday of the month of September. This year, the day is celebrated on September 19 under the theme
Theme: Achieving a Trash free coastline
Highlights
The International Coastal Clean-Up Day encourages people to clean beaches and remove garbage plaguing the beach. The day was started in 1986 by Linda Marnaniss and Kathy O Hara. However, it was established by Ocean Conservancy organization that helps to protect the ocean from challenges being faced every year.
India
India celebrated the day by launching an eco-label to its BEAMS programme. The programme is implemented by the Integrated Coastal Zone Management project of India. Also, India has recommended eight beaches to the Blueflag certification.
What is coastal regulation zone?
The coastal areas of rivers, backwaters, Seas, bays, creeks that are influenced by Tides up to 500 metres from the high tide line and the land between high tide line and low tide line is called coastal regulation zone. The coastal regulation zone was declared by the Ministry of environment forest and climate change under the Environment protection Act 1986. The implementation of coastal regulation zone rules is ensured by coastal zone management authority.
What is high tide line?
The high tide line is the highest line on the land till which the seawater reaches during spring tide.
What is low tide line?
It is the lowest tideline on the land till which sea water reaches during spring tide.
What is Spring tide?
The tide height directly depends on the position of both sun and moon in relation to the earth. When all the three astronomical objects Sun, moon and the earth are in a straight line the tide height will be at their greatest. The tides are then called spring tides. They occur twice a month during full moon period and New Moon period.
 Coastal regulation zone 2011 notification
The CRZ 2011  notification consolidated several amendments that were made in CRZ 1991. The major objectives of CRZ 2011 were as follows
To provide livelihood security to the fisherman and local communities in the coastal areas
To protect and conserve coastal regions
To promote development of coastal regions based on scientific principles considering the natural hazards and sea level rise.
Coastal regulation zone notification 2018
This notification was based on the Recommendation of Shailesh Nayak committee. It was constituted by the Ministry of environment forest and climate change in June 2014.
 Shailesh Nayak Committee report
It recommended relaxation of terms that were set up by CRZ 2011.
The recommendations of the committee e focus on boosting tourism real estate and post construction.
It suggested diluting the regulatory powers of Government of India in the coastal areas.
Month: Current Affairs - September, 2020
Category: Important Days & Events Current Affairs
Topics: BEAMS • Blue Flag beach • Coastal Regulation Zone • international coastal clean up day • Ministry of Environment Forests and Climate Change • ocean conservation
Latest E-Books