PM inaugurates phase-I of the Link-2 pipeline canal of SAUNI project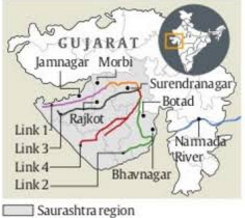 Prime Minister has inaugurated phase-I (Link-2) pipeline canal of the ambitious Saurashtra Narmada Avtaran Irrigation (SAUNI) Yojana in Botad district of Gujarat. He laid foundation stone for the Phase-II (Link-2) of the SAUNI Yojana in Saurashtra. The design of Link-2 is to pump Narmada water in 17 dams spread across Botad, Bhavnagar and Amreli districts of Gujarat. This is considered as a second milestone of the Rs 12,000 crore projects to pump Narmada water to the arid Saurashtra region.
Link-1 canal will take water to 30 dams in Jamnagar and Devbhoomi Dwarka districts. Last year, in August, Prime Minister dedicated phase-I of the Link-I canal to the nation.
SAUNI project
The entire SAUNI project envisages supplying water for irrigation purposes to 10.22 lakh acres of land in Saurashtra region. Under this project, one million acre feet (MAFT) of floodwaters of Narmada will be diverted to the Saurashtra region. In total, 1,126-kilometre-long network of giant pipelines would be laid to fill up 115 reservoirs in the Saurashtra region by diverting flood waters overflowing from the Sardar Sarovar Dam across the Narmada in south Gujarat. The project aims to utilize the floodwater which otherwise overflows the Narmada dam during monsoon and drains into the sea.
Under the SAUNI project, instead of open canals, pipelines are used. The massive pipelines of SAUNI project will run underground and thus requires no acquisition of farmer's land and results in less water loss. The pumping stations for the project will be constructed on government land. The project envisages filling irrigation dams that already have canal networks to channel water to farms. Therefore, technically, SAUNI project is a link project.
Under the project, four trunk lines (Link I, II, III and IV) will carry water to the 115 dams spread across the 11 districts of the Saurashtra region.
Link-1 of the project (180 km) originates from the Machhu II dam in Morbi district and carries Narmada water to 30 dams.
Link-2 (253 km) originates from Limdi Bhogavo II dam in Surendrangar, and supplies water to 17 dams.
Link-3 (245 km) originates from Dholi Dhaja dam in Surendranagar and ends at Venu I dam of Rajkot district, carrying water to 28 dams along its length.
Link-4 originates from Limdi Bhogavo II dam and ends at Hiran II dam in Gir Somnath district.
Month: Current Affairs - April, 2017
Topics: Gujarat • Irrigation Projects • National • States
Latest E-Books