Okha-Kanalus, Porbandar-Wansjaliya sections of Gujarat become Green Train Corridors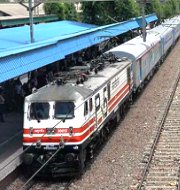 The Union Ministry of Railways has declared the Okha-Kanalus and the Porbandar-Wansjaliya railway sections of Gujarat as Green Train Corridors.
All trains passing on these 175-km long lines (141-km-long Okha-Kanalus route and the 34-km-long Porbandar-Wansjaliya route) are now equipped with bio-toilets.
On these routes, about 29 trains consisting of nearly 700 coaches have been equipped with bio-toilets to prevent open discharge free zone on tracks as part of the Swachh Bharat Mission.
What are Green Train Corridors?
Green Train Corridors are sections of the railways which will be free of human waste discharge on the tracks. Trains running on these corridors will be equipped with bio-toilets.
Thus, it will completely stop discharge of human waste from trains onto the ground which in turn would help in improving cleanliness and hygiene.
The 114-km long Rameswaram-Manamadurai section of Tamil Nadu was made the India's first Green Rail Corridor in July 2016
Background
The Union Ministry of Railways has taken up a mammoth task of equipping human discharge free bio-toilets in all its coaches by 2021-22 in order to contribute to mission 'Swachh Bharat Abhiyan'. It aims at completely stopping discharge of human waste from trains onto the ground in order improving cleanliness and hygiene
What are Biotoilets?
The environment-friendly bio-toilets for passenger coaches were developed jointly by Indian Railways and Defence Research and Development Organisation (DRDO).
In the bio-toilet fitted coaches, human waste is collected in biodigester tanks below the toilets and is decomposed by a consortium of anaerobic bacteria.
By the process of hydrolysis, acetogenesis, acidogenesis and methanogenesis, the anaerobic bacteria converts human faecal matter into water and small amount of gases (including methane).
Month: Current Affairs - October, 2016
Topics: Biotoilets • Gujarat • Indian Railways • National • Swachh Bharat Mission
Latest E-Books