Nikki Haley to be US Ambassador to U.N.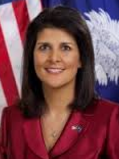 US President-elect Donald Trump has named well-known Indian-American and Governor of South Carolina State, Nikki Haley for the high-profile post of US ambassador to the United Nations. This marks Trump's first female appointment to a Cabinet-level post. Haley is the sixth appointment announced by Trump. It is believed that Haley has been chosen to counter criticisms over Trump's divisive comments about immigrants, minorities and accusations of sexism during his election campaign. Nikki Haley has worked on trade and labour issues as governor but has very little foreign policy experience. Trump, a New York real estate magnate, is working to form an administration following his electoral victory over Democrat Hillary Clinton. Trump will take over the administration from President Barack Obama on January 20, 2017.
A 44-year-old Republican, Nikki Haley, is a daughter of Indian immigrants and is currently serving her second term as Governor of South Carolina State. Haley became the first woman to serve as a Governor of South Carolina. She currently holds the distinction of being the youngest current governor in the United States. She also has the distinction of being the second Indian-American after Bobby Jindal to serve as governor of a state in the US. Also, she is one among the six Asian-American governors of the US.
Topics: American Presbyterians • American women in politics • Asian Americans in government and politics • Donald Trump • Governor of South Carolina • Haley • Nikki • Nikki Haley • Politicians • United States
Latest E-Books