NASA – Eyes on the Solar System Tool : 7 GK & Current Affairs Facts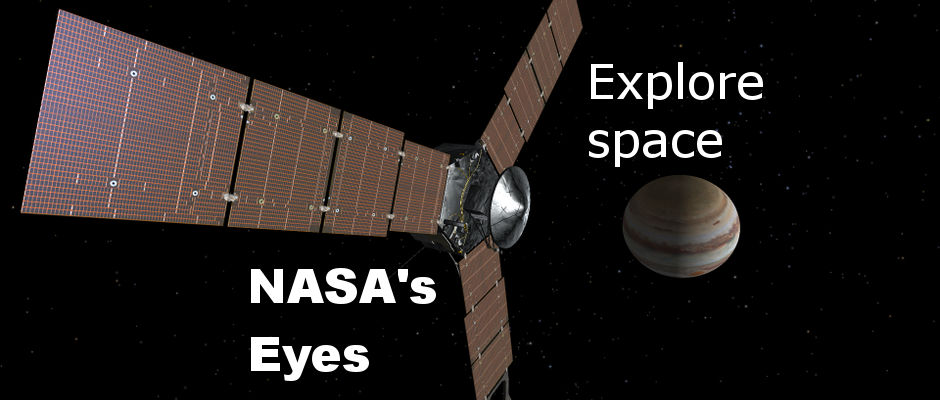 Recently NASA has updated its 3D visualization 'Eyes on the Solar System' tool. This new and improved system now makes interplanetary travel easier and more interactive than before.
Important Facts
This latest edition of "Eyes on the Solar System" lets you scroll through rich interactive journeys. For example, you can enjoy Voyager's grand tour of Jupiter, Saturn, Uranus and Neptune.
It took more than two years for the Visualization Technology Application and Development team at NASA's Jet Propulsion Laboratory and Caltech to develop the system.
This update offers better controls, better navigation, and tons of new opportunities to learn about our own Earth, the Solar System, asteroids, and more.
This unique 3D instrument allows real-time 3D data visualization of the past, present and future of the Solar System.
The instrument allows multiple visualizations from all satellites on Earth in real time for air temperature, carbon-dioxide, sea wall, soil moisture, ozone, and more.
This amazing tool allows you to explore exoplanets in 3D, the search can be filtered by planet type which includes 'Gas Giants, Terrestrial and even 'Super Earth' type planets.
This instrument highlights stars and allows the detection of exoplanets around them. One can see the "habitable zone" around the star and if an exoplanet is in that zone.
Month: current affairs - september, 2022
Category: Science & Technology Current Affairs
Topics: 3D visualization • Earth • Eyes on the Solar System Tool • NASA • Satellites • Solar System • Solar System Tool
Latest E-Books