Gaza: Rights Groups Condemn Hamas crackdown on Protests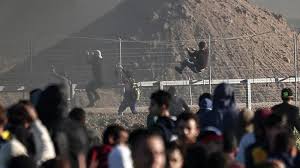 Many human rights organisations and groups have strongly condemned the attacks on protestors by the security forces of Hamas group in the Gaza Strip. People have been protesting against the growing costs of living and taxes for many days under the aegis of a new movement called "We want to live", which was formed a month ago.
The movement is actually led by a group of media activists who do not have any political links. The first protest which was staged last week was met with severe repression by the Hamas security forces. The protestors were dispersed by beating them and also by firing of live bullets in the air. Various videos of the same made rounds in social media.
Security forces of Hamas also broke into the houses of the citizens of Gaza and detained many under arrest campaigns all through the Gaza strip and Jabaliya refugee camp in the north, Deir al-Balah in centre and Rafah and Khan Younis in the south. Protestors have claimed that they have been attacked by batons by the Hamas as they were raising their voice against the dire conditions of life in the Gaza Strip. Locals have stated that people are participating in the movement as it resonates with their lives and bad shape of economic affairs. People have finally taken to streets to find a solution to the miserable living conditions in the area.
Hamas has claimed that the movement is a conspiracy which is staged by the rival government led by the Palestinian Authority in West Bank. The group has completely denied any existence of a popular movement in Gaza and has stated that it has made arrests of only those people who had been employed by the West Bank government previously and were now blackmailed by the Palestinian Authority in West Bank to stage chaos in the Strip in exchange for getting their salaries. In an official statement, Hamas stated that the groups to allow for peaceful demonstrations but will not let exploitation of protests for spreading unrest and chaos in the area.
A number of arrests have been made by the security forces and the detainees have been taken to unknown locations. Many Palestinian organizations in the Gaza Strip have come forward in support of the movement. The demands of the latter include the establishment of a labour office that will protect the right of workers from further exploitation, ending control of goods and prices by other parties and also monitoring of the private sector.
Category: Uncategorized
Topics: Gaza Strip • Governance of the Gaza Strip • Hamas • National liberation movements • Palestinian National Authority • Palestinian nationalism • Palestinian terrorism • State of Palestine
Latest E-Books