G20 meeting of Finance Ministers and Central Bank Governors 2019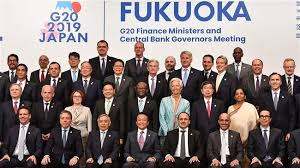 Smt. Nirmala Sitharaman, Union Minister of Finance & Corporate Affairs participated in G20 Meeting of Finance Ministers and Central Bank Governors and associated events during 8-9 June 2019 held at southwestern city of Fukuoka, Japan.
Key Highlights
This meeting took place alongside with G20 Ministerial meet on Trade and Digital Economy (on 8-9 June 2019) at Tsukuba city, Ibaraki Prefecture, Japan.
Features:
It aimed towards forging consensus on range of issues to be endorsed by leaders who will be meeting in late June in Osaka, Japan.
The meet also focused on current situation in global economy and current trade and technology dispute between US and China.
Besides this participants also discussed issues related to tax challenges for addressing digitalisation of economy, ways for improving taxation and measures to ensure sustainable growth.
India at G20
Smt. Sitharaman, Union Finance Minister of India noted the urgency of fixing issue of determining right nexus and profit allocation solution for taxing profits made by digital economy companies, as with each passing day the work on tax challenges arising from digitalisation of economy is entering a critical phase.
India strongly supported that potential solution to aforementioned problem should be based on concept of significant economic presence of businesses, by taking into account evidence of their purposeful and sustained interaction with economy of country in question. This concept was piloted by India and had been supported by large number of countries including G-24. Union Finance Minister expressed confidence that a consensus-based global solution that should also be equitable and simple, would be reached by 2020.
India welcomed the beginning of Automatic Exchange of Financial Account Information (AEOI) on a global basis, which was used by over 90 jurisdictions in 2018 for successfully exchanging information. This move would ensure that tax evaders could no more hide their offshore financial accounts from tax administration.
India urged global forum of G20 to further expand network of AEOI by identifying jurisdictions including developing countries as well as financial centers that are relevant but have not yet committed to any timeline.
To address the need for taking appropriate action against non-compliant jurisdictions, India called upon international community to agree on a toolkit of defensive measures that can be taken against such non-compliant jurisdictions.
India also raised need for international cooperation on dealing with fugitive economic offenders (FEO) who flee their countries to escape from consequences of law and urged all member states to draw closer collaboration and coordinated action so as to bring such economic offenders to face law.
About G20
G20 (or Group of 20) was formed on 26 September 1999 as meeting of Finance Ministers and Central Bank Governors of member states in aftermath of Southeast Asian (Tiger economies) financial crisis. Since its inception group has played a key role in responding to global financial crisis situations. In 2008, 1st G20 Leaders' Summit was held in Washington DC, United States.
Members: includes 19 countries and European Union (EU) which collectively representing two-third of world's population, 85% of global GDP and 80% of international trade. The 19 countries are India, China, Japan, Russia, Australia, Argentina, Brazil, Canada, France, Indonesia, Italy, South Korea, Mexico, Germany, Saudi Arabia, Turkey, US, South Africa and United Kingdom.
Function: It is premier forum for international economic cooperation, decision-making and deliberations on global economic issues and other development challenges faced by its member nations.
Even though there are no binding commitments in G20, it sets agenda for multilateral trade relations.
Month: Current Affairs - June, 2019
Category: Economy & Banking Current Affairs - 2022
Topics: Automatic Exchange of Financial Account Information • Concept of Significant Economic Presence • Digitization of Economy • Fugitive Economic Offenders • Fukuoka • G-24 • G20 meeting of Finance Ministers and Central Bank Governors • Group of 20 • Japan • Osaka • Smt. Sitharaman • Union Finance Minister of India
Latest E-Books