Darjeeling zoo gets a male snow leopard for breeding conservation programme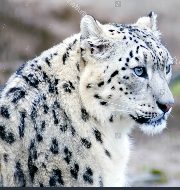 The Padmaja Naidu Himalayan Zoological Park (PNHZP) in Darjeeling, West Bengal has received a male snow leopard named Makalu from London's Dudley Zoological Gardens.
The male snow leopard will be used for en-situ breeding conservation programme at PNHZP. It will also help to balance the poor sex ratio of the Darjeeling zoo (8 female and 1 male) which is hampering the breeding programme.
The snow leopard was transferred after there were genetic matches of its samples with the resident population of the zoo. It has been named after world's fifth highest peak Makalu (8,485 metres) located on the south-east side of the Everest.
About Snow leopard
The snow leopard (Panthera uncial) is a large cat native to the mountain ranges of Central and South Asia.
It inhabits alpine and subalpine zones at elevations from 3,000 to 4,500 m. In the northern range countries, it also found at lower elevations.
Since 2008, it has been considered a member of the genus Panthera based on genotyping studies. Prior to it, snow leopard classified as Uncia uncia since 1930s.
It is National Heritage Animal of Pakistan and Afghanistan.
Conservation status: Snow leopard is listed as endangered species on the IUCN Red List of Threatened Species.
About Padmaja Naidu Himalayan Zoological Park (PNHZP)
PNHZP is a 67.56-acre zoo located about 7,000 feet above the sea-level in Darjeeling, West Bengal. It is the largest high altitude zoo in India.
The zoo was opened in 1958 and has named after Padmaja Naidu, daughter of Sarojini Naidu.
PNHZP specializes in ex-situ breeding animals adapted to alpine conditions. It has successful captive breeding programs for the snow leopard (started in 1983), Himalayan wolf, red panda, Blue Sheep, Himalayan Tahr, Himalayan Goral and Markhor.
Month: Current Affairs - June, 2016
Topics: Conservation Programme • Envrionment • Places in News • Project Snow Leopard • Snow leopard
Latest E-Books