China abandons its decades old One Child Policy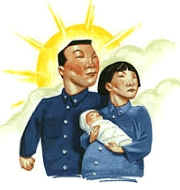 China, world most populous country has announced to abandon its three decades-long one-child policy and changed it two-child policy.
The ruling Communist Party of China (CPC) in this regard has issued an official communiqué at  the end of party's 4 day plenary session headed by President Xi Jinping in Beijing.
The change of policy is intended to
Balance population development world's second largest economy.
Address the challenge of unnatural negative demographics due rising numbers of old age population as well as concerns over declining labour force.
This announcement comes amid slowdown of China's economy which has plunged for the first time below the 7 per cent figure since the 2009 global economic crisis.
Background
China had introduced its One-Child Policy in 1978 and was implemented in 1980 to rein in population growth in order to alleviate social, economic and environmental problems in China.
It main intention was reduce population growth of the country by limiting most urban couples to only one child. In case of rural couples it was limited to only two children if the first child was a girl.
Under this policy only few ethnic minorities were exempted including Tibetans, Uighurs.
The policy was considered controversial as it had forced many abortions and is still being criticised by Human Rights groups and activists. However, Chinese authorities have claimed this policy was one of the main reason for its economic prosperity.
Month: Current Affairs - October, 2015
Topics: China • Current Affairs 2016 • One Child Policy
Latest E-Books