Agni-5 missile successfully test-fired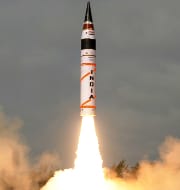 Nuclear capable surface to surface Agni-5 ballistic missile was successfully test-fired from Dr Abdul Kalam Island off the Odisha coast. It was user associated trial of missile undertaken by strategic force command along with DRDO scientists.
About Test
The missile was launched with help of mobile launcher from launch pad-4 of the Integrated Test Range (ITR) at Dr Abdul Kalam Island in the Bay of Bengal. During this trial, the flight performance of the missile was tracked and monitored by radars, tracking instruments and observation stations.
It was seventh trial of the indigenously-developed surface-to-surface missile. The first test was conducted in April 2012, second in September 2013, third in January 2015 and fourth in December 2016. The fifth test was held January 2018 and seventh was held in June 2018. All the trials were successful.
 Agni-5 ballistic missile
It is three-stage solid propellant nuclear-capable intercontinental ballistic missile (ICBM), indigenously developed by the Defence Research and Development Organisation (DRDO). It is about 17 metres long, 2 metres wide and has a launch weight of around 50 tonnes.
Agni-5 is latest and most advanced variant in terms of navigation and guidance, warhead and engine in Agni series of missiles.  It has strike range of over 5,000 kilometres and can carry nuclear warhead of 1.5 tonne. Thus, it can hit most northern parts of China and other parts of Asia, Europe and Africa.
Unlike other missiles of Agni series, Agni-5 is most advanced missile having new technologies incorporated with it in terms of navigation and guidance, warhead and engine. It is also a fire and forget missile, which once fired cannot be stopped, except by interceptor missile which only US, Russia and Israel have.
It carries Multiple Independently Targetable Re-entry Vehicles (MIRV) payloads. A single MIRV equipped missile that can deliver multiple warheads at different targets. It is also incorporates advanced technologies involving ring laser gyroscope and accelerometer for navigation and guidance. It has not yet inducted into the Services.
Month: Current Affairs - December, 2018
Category: Defence Current Affairs
Topics: Agni 5 missile • Defence • DRDO • ICBMs • missile technology • Nuclear Missiles • Odisha • Strategic Forces Command
Latest E-Books