44 African countries sign agreement to establish African Continental Free Trade Area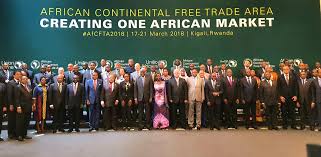 The 44 African countries from total 55 members of African Union (AU) have signed agreement to create African Continental Free Trade Area (AfCFTA), one of the world's largest free trade blocs. The agreement was signed at a summit held in Kigali, Rwanda.
The signed AfCFTA agreement contains legal framework for free trade area. It will come into force after it is ratified by individual countries through their respective domestic processes. 10 countries including Nigeria, Africa's largest economy and most populous country have refused to sign the agreement.
African Continental Free Trade Area (AfCFTA)
AfCFTA will bring together 1.2 billion people with combined gross domestic product (GDP) of more than $2 trillion from entire continent of Africa comprising 55 countries. The continental trade bloc aims to remove barriers to trade, like tariffs and import quotas, allowing the free flow of goods and services between its members. It also seeks to liberalise services and aims to tackle so-called non-tariff barriers which hamper trade between African countries, such as long delays at borders. It will help in creating single continental market for goods and services and boost trade between African countries. It will boost commerce, growth and employment. The free trade area may also will free movement of people and even have single currency in future. It will also make Africa more competitive outwardly. Once AfCFTA becomes reality, it will be largest free-trade area in terms of participating countries since the formation of the World Trade Organization (WTO).
Background
African heads of government agreed to establish a continental free trade area in 2012 and started negotiations in 2015 to boost intra-Africa trade. Intra-African trade is relatively limited and it is made up only 10.2% of continent's total trade in 2010. Within Africa, 43% goods traded are manufactured products. Between 2010 and 2015, fuels represented more than half of Africa's exports to non-African countries, while manufactured goods made up only 18% of exports to rest of the world.
Month: Current Affairs - March, 2018
Topics: Africa • African Continental Free Trade Area • African Union • Business • Economy • Free trade areas • International • Trade blocs
Latest E-Books